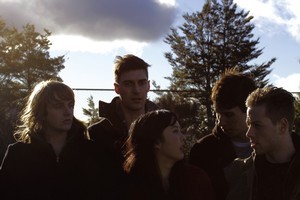 It's not the sort of album a band who have had a catchy, chart-topping No. 1 single should make. It's far too noisy, abrasive, and often uncompromising in its music-making approach for that.
Then again, in a world where pop hits are either nice and catchy, or nice and sleazy, Auckland five-piece the Naked and Famous were a surprise oddity when their swooning and scorching single Young Blood debuted at the top of the pops in June.
"We knew we were onto a great concept, but we had no idea it was going to do what it did. You know, beat Snoop Dogg and Katy Perry for a couple of weeks, which is quite absurd really," says band co-founder, producer, and singer Thom Powers. "But it's really put us in a way better place in terms of public perception. But it's also an awkward place, and we have to be careful about being seen just as a pop band."
Their debut album Passive Me, Aggressive You, which is out on September 6, should set the record straight - and though the mainstream charms of Young Blood will lure many in, also beware of coming away with bleeding ears.
There's Frayed, with its slabs of dissonant distortion and rumbling darkness; new single Punching in a Dream (a "pretty distressing" song with the fiery lyric, "Like punching in a dream, breathing life into my nightmare"); and, most menacing and bratty of all, A Wolf in Geek's Clothing, a barrage of riffing and writhing thrash.
"It's pretty heavy, eh?" says Powers of the song.
"It's full of strange noises, the structure is odd, it breaks down into nothing and then it's off again," adds bandmate and fellow producer Aaron Short.
It's clear the Naked and Famous - also made up of fetching siren, singer and co-founder Alisa Xayalith, bass player David Beadle, and drummer Jesse Wood - are more than just a electro synth pop band. They're reinventing the genre and have come up with something unique.
Before Young Blood they were movers and shakers in the underground thanks to excellent 2008 EPs This Machine and No Light; they scored a support slot for Nine Inch Nails in early 2009; and last year's All of This - a song that starts out with a humming pulse and escalates into volatility - got widespread airplay on music TV and alternative radio.
All this and they're all still in their early 20s, with Xayalith the oldest at 23.
The turning point though was Young Blood, which was one of the first songs (along with All of This) they wrote for the album.
"We were in a nice big studio, and we were kind of running the show, and we were like, 'Okay we've got to do this. Can we do this?'," remembers Powers.
The result was, well, near pop perfection with Xayalith's voice a standout as it moves from high and hushed to a beautiful sonic yowl. As well as chart honours, and being an iTunes hit, it's also on the shortlist for this year's Silver Scroll Awards.
"It made us realise what No. 1 actually meant. Paul [McKessar, manager] said, 'Take the afternoon off', and we were like, 'Oh, yeah'," says Powers with a laugh.
On the album there are other songs on the same swooning and catchy scale, like Eyes (with it's soft-focus Bette Davis Eyes guitar moments), and No Way, which morphs from a stripped-back refrain, to a punishing shoe-gaze haze, and back again.
But it's Young Blood that's the best example of how these guys write songs with a strong pop sensibility injected with noisy and powerful mayhem.
"We are all fans of a big pop song, but none of us are fans of the crystal-clean, super-perfected overpolished style," says Short, "and that shines through - that we can do a pop song but with that edge to it and ...
"... and the dirt," chimes in Xayalith.
"Yeah, the dirt factor," agrees Short.
It would have been easy for the Naked and Famous to take their heavenly pop hit to heart and write 12 more for the album - but they didn't. Instead, they've kept sight of their roots and retained the mix of minimal and steely electronic rock and dream pop they conjured up on the EPs.
"We haven't really changed," reckons Powers. Apart from growing in numbers that is. They started out as the home studio duo of Powers and Xayalith, while Short engineered their live sound at shows.
The trio met three years ago at MAINZ, the Auckland music and audio school, where the two lads were doing audio engineering, and Xayalith was doing contemporary music. But Powers and Xayalith - who are also boyfriend and girlfriend - decided to drop out and start the Naked and Famous.
"We wrote Serenade [off This Machine] because we were trying to figure out what sort of music we wanted to make - and we thought, 'Oh yeah, let's roll with that then'," says Xayalith.
From there, the band became Short's end of year music project for MAINZ and the result was first EP This Machine. He joined the band full-time and then in early 2009 Beadle and Wood came on board.
"The EPs were almost like, not trainer wheels, but discovering the kind of band we wanted to be. And when Dave and Jesse joined, it was really completing the way it worked," says Powers.
"It opened up way more possibilities in terms of what could be played," continues Short.
Beadle was a bit of a Naked and Famous groupie, and when the opportunity to play in the band came up he jumped at the chance - and even made the switch from normal guitar to bass for the cause.
With a full complement of players it also meant the production floodgates opened, because initially they stuck to the rule that if it can't be played live then they wouldn't do it.
But, says Powers, becoming a quintet made the recording process "limitless" and makes Passive Me, Aggressive You, big, expansive, and impressive.
"There is an idea behind what we do," continues Powers, "and there are exceptions to the rule, but essentially Alisa and I will write demos, Aaron and I produce the demos, and the band will play the demos, and then we record everything in the studio as a band - and then we work on parts."
"It's like sculpting," says Xayalith with a smile.
"Everything has come together and it's never been like, 'What kind of band are we going to be?'," says Powers. "We're all music fans too. Personally I've always been obsessed with writing, and I just need an outlet. My pockets are always full of notes with song ideas. And I don't know what else we'd be doing if we weren't doing this."
LOWDOWN
Who: The Naked and Famous
Line-up: Thom Powers, Alisa Xayalith, Aaron Short, David Beadle, and Jesse Wood
Debut album: Passive Me, Aggressive You, out September 6.
Past releases: This Machine (2008); No Light (2008)
Also: The band's first, albeit small, step overseas is the release of a seven-inch of Young Blood (with a cover of the Mint Chicks Crazy?Yes!Dumb?No! as a B-side) in Britain the same day as the album comes out here
-TimeOut