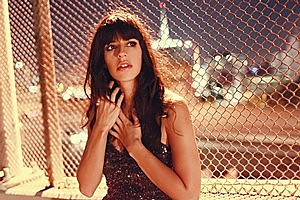 It's not the most elegant way to put it, but Brooke Fraser feels like she's been constipated for four long years.
The singer-songwriter reckons it's the only way to describe the frustrating time she had writing new songs following her second album, Albertine. She'd been hunkered down at her home in Sydney, where she moved to in 2005, and by the end of 2009 only had three songs finished. "You know, three years after my last album," she says, sounding a little disgusted with herself. "I was really frustrated and felt like I needed to get away and be somewhere where I could completely focus."
So Fraser and hubbie Scott Ligertwood, who she married in March 2008, moved to Los Angeles - not exactly an unfamiliar city since she's recorded there and toured the US in the past - in search of inspiration.
"And just to try and get a little bit of head space. It was the best decision we ever made," she says on the phone from the couple's apartment and home away from home for the past six months.
The songs started coming easily, and within three months she was ready to record Flags, an album she describes as "not a departure, it's more like a graduation".
It's out on October 12 and later that month she hits the road playing some of the lovely old theatres around the country, including the Civic in Auckland on October 29.
Apart from coming back every few months to get her hair cut - "I'm still loyal to [hairdresser] Stephen Marr" - it will be three years since she played in New Zealand.
And she's looking forward to it, especially since she's finally got some new songs to play.
"It's just a huge relief," she says of finishing the album. "Now I feel like I'm sitting on this little secret that I want to let people in on now."
On Twitter Fraser told her fans, almost by way of a warning, that latest single, Something In the Water, was very different from what you'd expect from her. And she'd be right.
It's a right little thigh-slapper, with a bit of a stomp to it, and it's about good times, drinking wine, and being in love ("Kiss me quick now baby, I'm still crazy over you"). It also has a catchy, Dolly Parton-feel to it.
"Do you know what? We had to go back to the drawing board on that one, I listened to it a few days later and I was mortified because it sounded completely bluegrass. I had to rein it in a bit."
Yet Flags also has a darker, more confronting side. If her 2003 debut What To Do With Daylight, which she released as a 19-year-old, was innocent and coy, and Albertine was her accomplished, coming of age album (with the title track, about a Rwandan orphan, winning the 2007 Silver Scroll), then Flags deals with the harsh realities of her own life - and those close to her.
"Albertine was me coming into my early 20s and being outraged by things in the world," she remembers with a hint of wryness. "It was idealistic and coming from the pain of humanity, and I think Flags is the pain of the person. I think I've reached my mid-20s and all this sort of life stuff happens.
"There are life-altering gut-wrenching experiences on Flags, and it has been a really painful time for me."
She's reluctant to go into detail about these difficult times, but she says she deals with everything from betrayal to the cycle of grief on the record.
"You know, something awful happened to someone two years ago and they still think about it every day. That's touched on a bit. Stuff like that, yeah. I feel like I've told the stories in a really honest way and I feel proud of that."
But it's not all pain and suffering, as Something In The Water is testament to. Because these days, life is good for the 26-year-old and it's obvious married life is treating her well if the adoring way she talks about Ligertwood is anything to go by.
"My husband is superman," she laughs, even though she says being a couple took a bit of getting used to. "When I was single I would be able to get up whenever I liked, and write, and then all of the sudden there is this person there all the time. I freaked me out a wee bit at first," she laughs. "But it's wonderful, I don't want him to go anywhere, he's my favourite person to be around, I just want to hang out with him all the time."
Ligertwood is also co-credited on Something In the Water, although Fraser says he wouldn't call himself a songwriter. "But I'd been working on it for days and come up with a verse but I couldn't get a chorus. He shouted round the corner, 'It should be something like this ...' So he's good for that as well."
For the first time Fraser also produced the album herself after getting "a bit pissed off" with an outside producer coming in and dictating what he thinks she should sound like.
"Because I write these songs, I play these songs, I'm a capable musician, and a capable woman, and it wasn't me trying to make a feminist statement, but it was more about these being my songs, and the way I want them to sound, and I'm going to give it a go.
"I think the album reflects that: something different, something fresh, rather than someone else's idea about what I should sound like. I think this album will surprise people a little bit."
As producer Fraser could do what ever she wanted - and despite the often heavy subject matter, this girl wanted to have some fun during recording. Traditionally Fraser admits to being "strangely administrative for an artist" and using graphs and "colour-coded charts" to ensure she's organised, but this time round she wanted to have the freedom to experiment and explore the songs with the players she had got together.
So on Orphans, Kingdoms, which she envisaged sounding like chaos, she got all the players to grab something - anything - and bang it in time.
"All these guys are great players and they've been around for years, but they were like little kids. The bass player grabbed a rubbish bin, they climbed up the stairs and banged the railing. It was fun and I just wanted it to sound really human. We were playing our knees, our hands, and tapping on our faces."
It might sound more like a zoo, but it means the songs are more raw and not as slick-sounding as Fraser's past work.
But what remains is that solid songcraft she's had since she started writing tunes when she was 12, inspired by the likes of Paul Simon, Joni Mitchell, and James Taylor. Although now her influences include everyone from Icelandic chameleon Jonsi (from Sigur Ros), sonic Seattle folk band Fleet Foxes ("They are my favourite band of all time"), and London folkies Mumford & Sons.
"The music I listen to doesn't actually resemble the music I make," she ponders, "but writing songs is really the only thing I know I want to do forever. The first thing I discovered when I was 12 was connecting with putting a pen to paper and writing a melody - and those two have always been an inseparable pair."
LOWDOWN
Who: Brooke Fraser
What: The songbird returns
New album: Flags, out October 12
Past albums: What To Do With Daylight (2003); Albertine (2006)
Where and when: Oct 26, Dunedin Town Hall; Oct 27, James Hay Theatre, Christchurch; Oct 29, Wellington Opera House; Oct 30, Civic, Auckland; Oct 31, Clarence Street Theatre, Hamilton.
-TimeOut