Former Go-Between Robert Forster tells Russell Baillie about how his late bandmate helped inspire a new album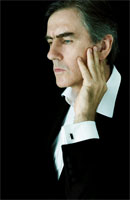 It was going to be their 10th album together, their fourth since reforming the musical partnership which had driven indie band the Go-Betweens from Brisbane to international acclaim through the 80s, only to founder when they thought their dash was done.
But the new album by Go-Betweens Robert Forster and Grant McLennan is not a Go-Betweens record.
McLennan died of a heart attack on May 6, 2006. He was 48.
When he died he and Forster were two months and eight songs into the new album.
Instead, the result is a new Forster solo album titled The Evangelist.
But if you know the Go-Betweens' folky, literate, gentle music - and the differing trademarks of the band's two songwriters - it's disconcerting, poignant listening. Especially when Forster's erudite voice sings airy melodies that are identifiably McLennan's - and especially when he sings lyrics identifiably about McLennan.
On the upbeat It Ain't Easy, Forster eulogises his musical partner: "I write these words to his tune he wrote on a full moon. And a river ran, and a train ran, and a dream ran through everything that he did."
That song was one of three on the album - with Let Your Light in Babe and Demon Days ("one of the best four or five he'd ever written") - that McLennan had originated and Forster says he completed after his passing.
He had occasionally written lyrics to his partner's melodies before.
But this time It Ain't Easy became the song that punctuates the end of the Go-Betweens. He thinks McLennan would be pleased with the results.
"Obviously in there, there are things which would amuse him that was also part of our friendship, and on the likes of It Ain't Easy to put in a portrait of him and enshrine him in a way in a pop song, he would find amusing and good.
"Let Your Light In Babe he would find good and humorous, and Demon Days is hard - it's a song of great earnestness and I can only hope he liked what I did there."
On It Ain't Easy, Go-Betweens trainspotters might recall that locomotives were forever steaming through McLennan's songs. There was a good reason for that, says Forster.
"Where he died he was living beside a train track. I remember when we played guitar in front of his little shack that he had, trains would go by while we were outside playing guitar. So it's quite real."
And while recording the album in London with Mark Wallis, who produced the Go-Betweens 80s swansong classic 16 Lovers Lane, Forster set up a space for his absent friend in the studio.
"Grant's ghost was there, but there weren't too many sad moments," Forster wrote in a piece for Britain's Sunday Times. "His amp was set up and a guitar of his stood on a stand. We all had to work a bit faster because Grant's turn to sing or play never came around."
Despite McLennan's "presence", Forster had no inclination to release The Evangelist as a Go-Betweens record.
"No. There are echoes - big echoes which I wasn't afraid to cut off. The Go-Betweens' echoes came in a whole variety of ways - through the people who are playing the songs, playing guitar in a certain way.
"I just didn't feel the impulse to stop it and I felt confident enough with what I do and what the Go-Betweens did to deliberately not sabotage it.
"Also I knew there was enough things on the album to make it not a Go-Betweens record. I was in a lucky position really. I could source and filter Go-Betweens' feelings but I knew the majority of it had the feel of a solo record."
Forster laughs about how he now misses his mate for more practical reasons. Like having to do all the interviews to promote a new album. And then there is the forthcoming touring in front of the Go-Betweens faithful.
"Recording the album was easy compared to this - the songs were confrontational. The fact that Grant wasn't there was obviously confrontational but I was in a studio and no one was watching me and I was with friends, whereas being in a venue and playing these songs and old Go-Betweens songs - some of them now have a completely different meaning.
"It's going to be a very changed atmosphere I think."
Though he does feel relief at finishing an album of such sad beginnings.
"It does feel like a weight off my shoulders because I lived with the songs and the idea of making the record for about a year and a half.
"It was also the weight of expectation that I knew people had on me and that I had on myself, and there was a sense of relief when I made the record. I made it in London - when I came back to Australia and I was listening to it [for] a couple of weeks over Christmas, I could hear that I had made the record that I wanted to, and that was all I could do. So that was a huge weight off my shoulders."
LOWDOWN
Who: Robert Forster, surviving half of the Go-Betweens frontline.
Key band releases: Before Hollywood (1983), Spring Hill Fair (1984), Liberty Belle and the Black Diamond Express (1986), Tallulah (1987), 16 Lovers Lane (1988), The Friends of Rachel Worth (2000), Bright Yellow Bright Orange (2003), Oceans Apart (2005)
Solo albums: Danger in the Past (1990), Calling from a Country Phone (1993), I Had a New York Girlfriend (1995), Warm Nights (1996)
Latest: New album The Evangelist out now (EMI)
By Russell Baillie @RBaillieNZH

Email

Russell