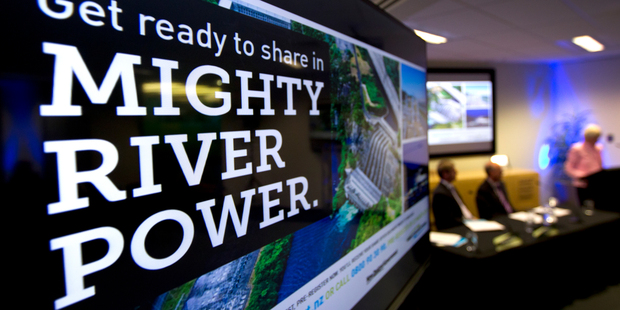 The high number of first-time sharemarket investors buying into Mighty River Power bodes well for the capital markets, says the New Zealand Shareholders Association.
Of the 113,000 people that bought shares in the power company 68 per cent or just over 77,000 people had previously never had a Common Shareholder Number - the basic identification code which all those who participate in the New Zealand sharemarket must have.
The new investors will boost the number of individual Kiwis who owns shares by 14 per cent and bring the total to around 637,000. Around 100,000 are considered to be active traders.
Association chairman John Hawkins said he never expected all of the 440,000 who pre-registered to buy shares and said anything over 100,000 was good.
"Against the 440,000 it doesn't look that good but against any other listed company it looks like a pretty good number."
Hawkins said Mighty River Power would become the most widely held company on the sharemarket when it lists today.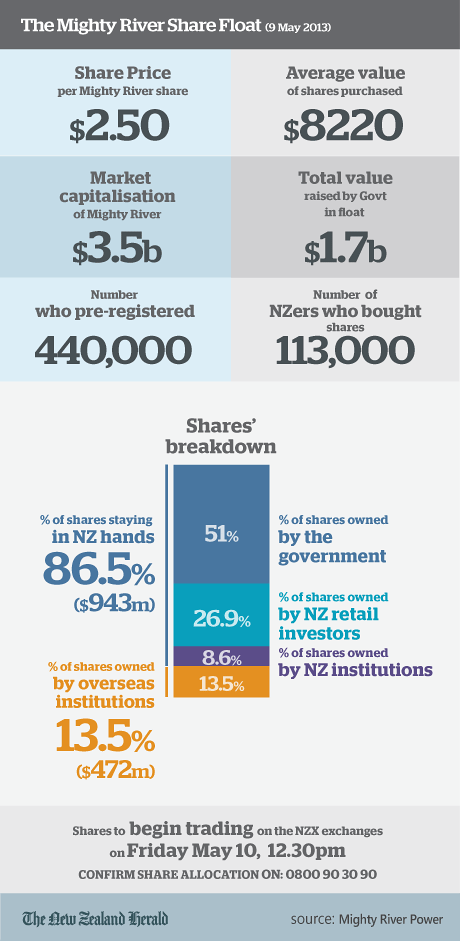 Contact Energy, the last major asset floated by the Government, had 225,000 shareholders when it listed in 1999 but that has since fallen to under 76,000.
Unlike Contact, Mighty River Power has a bonus scheme to encouraged retail investors to stay in for at least two years.
Hawkins said he didn't expect many small investors to be sellers on day one and said those who bought infrastructure assets tended to be long-term shareholders.
Carmel Fisher, principal of Fisher Funds Management, said the number of new investors was exciting, particularly if they ended up having a good experience which encouraged them to buy more shares.