Perched high above Lake Wakatipu in the Southern Alps, the spectacular Aro Ha Wellness Retreat was founded with the goal of fostering wellbeing in people.
Opened in January, the $30 million retreat is an ambitious architectural model of sustainable living practices.
Business partners Damian Chaparro and Chris Madison spent three years working with architect Hugh Tennent to create Aro Ha. The result is an off-the-grid facility in terms of electricity, fuel, water and much of its food, without any compromise on luxury.
"The project seeks to establish an infrastructure that treads lightly on the environment and is strongly self-sufficient," Mr Tennent said.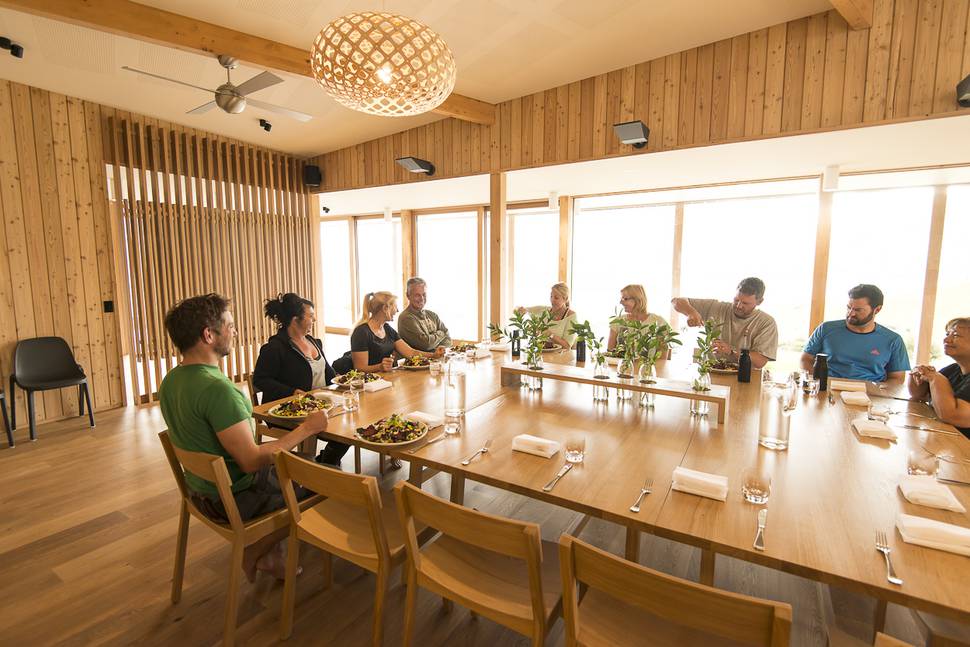 As well as being a relaxing location for 32 lodgers, Aro Ha delivers a variety of wellness adventure programmes, involving yoga, meditation, therapeutic massage, detoxing and intensive exercise. Vegetarian meals are prepared using fresh produce, grown on-site in carefully placed permaculture gardens.
Tennent said that the gardens and greenhouses are "not built on but embraced by the buildings". This ensures the growing areas receive ample sunlight, whilst also being easily accessible to residents.
In designing the various structures that make up the retreat, Tennent recognised the cold winters, summer dust and high winds as key factors to take into consideration.
He also wanted to make sure lodgers got the most out of the extraordinary views.
"Architecturally the buildings were treated as rock outcrops rather than vernacular lodges with chalet-type roofs," Tennent said.
"So the inspiration for the forms was from the local, natural forms, rather than traditional forms of shelter."
In addition, the buildings host a minimalist style of interior which serves to emphasise the impressive alpine scenery visible through the windows. The clients' intention from the beginning had been for Aro Ha to be as self-sufficient as possible - thinking both from an environmental perspective and a logistical one, as the facility was being built in such a remote location.
The $30 million project generates its own energy, using solar panels, wood burning and micro-hydro systems.
"The heating of the water and spaces is driven by a combination of solar thermal heating, and a centralised wood-fired boiler, for which on-site coppicing will provide some of the wood," Tennent commented.
Coppicing is a traditional woodland management technique. Over 700 quick-growing trees have been planted at Aro Ha, and coppicing involves staff at the facility regularly cutting the trees down to ground level. This encourages an optimum number of new shoots to emerge from the stumps. The shoots are then harvested once grown, giving a constant supply of fuel for the boiler.
Energy can also be drawn from photovoltaic solar panels.
"The solar panels for both solar thermal and solar electricity were supplied by Solar City and include a large battery bank and inverters to enable the centre to be self-sufficient for periods, and to feed back to the grid when over-supplying power," Tennent noted that the facility is also designed to make best use of the heat of the day.
The glazing on the residences, sourced from Eurotech in Dunedin, uses a European-standard system of timber joinery with double seals, which grants greater insulation than traditional New Zealand systems.
The cladding on the buildings is made up of western red cedar from Herman Pacific. The architects and builders used a board-over-batten cladding system, which offers an insulating cavity behind the boards, as well as giving a tidy visual appearance.
Along with accommodation, activities, food and views, visitors also have access to a spa complex, dining rooms and common rooms. All of the buildings are designed to Passiv Haus standards, allowing for minimal use of energy.
Infrastructure engineer Paul James from Ecubed said the water and drainage system itself is also self-sustaining and independent from the grid. Rainwater is collected from roofs to provide irrigation water to the growing areas.
Aro Ha even manages its own waste with biolytic processing, where organic material is broken down by living organisms.
To sum it all up? Aro Ha Wellness Retreat is an example of the possibility of founding a fully sustainable community, completely separate to the water and power networks, whilst also providing a healthy and rejuvenating environment for residents.
Like what you see? For weekly Element news sign up to our newsletter.
We're also on Facebook and Twitter.