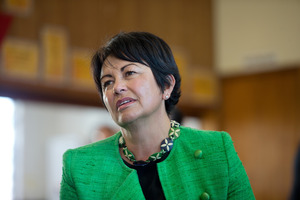 Eastern Christchurch's Avonside Girls High and Shirley Boys High are to be relocated to a new shared site following a review of the quake-shattered city's secondary schools.
Education Minister Hekia Parata said the decision was made following an extensive consultation process.
"All Christchurch secondary schools will remain open because the schools are well located and provide good access for students" she said.
However, Avonside Girls High School and Shirley Boys High School which suffered significant land damage would be relocated to a new shared site in eastern Christchurch which officials were now working to identify.
Ms Parata said the consultation process involved all Christchurch secondary principals and included feedback from 120 students which contributed to "a vision for secondary education in greater Christchurch".
"This Government welcomes this collaborative approach to the secondary school network in Christchurch which has seen extensive change due to the earthquakes", she said.
The Government would spend $400 million on the project to rejig the city's secondary schools.
"In making these decisions, I am mindful families in greater Christchurch have already been through a lot and I expect that today's announcement will provide some certainty for parents and their children", Ms Parata said.
"We have a chance to build brighter, more modern schools in better locations, with great new facilities, and to ensure all children are getting access to good, quality education."