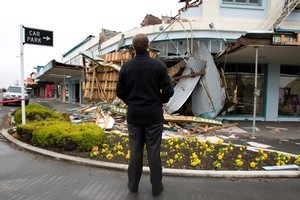 The quake-damaged town of Kaiapoi in North Canterbury "will never be the same again", Waimakariri District Mayor Ron Keating says.
The town's infrastructure, including water and sewerage pipes, was badly damaged in Saturday's 7.1 magnitude quake.
More than 200 homes suffered damaged, 50 of which are now considered unsafe.
Properties were still being assessed and labelled with colour-coded notices - green for safe, yellow for restricted access and red for unsafe.
Mr Keating said a red notice was not necessarily a "death sentence".
"It is entirely possible and indeed probable the status of some of these properties will change as we are able to help residents make the changes needed to lift any restrictions. This could mean something as basic as providing a portaloo," he said.
Kaiapoi central business district opened from 7am to 7pm today, but 22 commercial properties were deemed unsafe.
Another 800 properties and homes are due to be assessed by Friday.
"We are finding even as we repair breaks, new ones are occurring in the aftermath of the ongoing aftershocks," Mr Keating said.
About 15 per cent of Kaiapoi was still without running water today, and Mr Keating advised affected residents to go to the local welfare centre.
"The welfare centres can provide food, shelter, water and toilet facilities as well as advice on ways people can return to their homes or other assistance that might be available to them," he said.
Power was restored to most of the Kaiapoi area, but about 350 homes were still relying on generators.
Around 30 contractors and council staff worked on problem areas today, including the badly-damaged sewerage system.
"Reticulation in some areas is so severely damaged ... it will take a long time to repair."
Mr Keating said the Kaiapoi community had been "nothing short of phenomenal" but the river-side town would never be the same.
"Everyone has pulled together to do what they can to help. We are very grateful to all those who have offered assistance," he said.
- NZPA