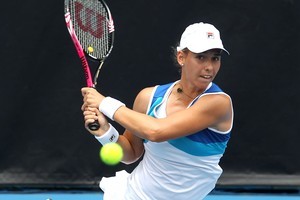 Who needs doubles anyway?
Marina Erakovic, who begins her singles campaign tonight, crashed out of the doubles 4-6, 5-7 last night.
Teamed up with Canadian Rebecca Marino, the pair was no match for second seeds Sania Mirza and Elena Vesnina. The Russian was Erakovic's 11th-hour partner in Linz, Austria, last year, a tournament they won.
Yesterday, the Russian was more composed than the New Zealander, whose thoughts would have been on today's match with Angelique Kerber.
The German, at world No 32, is ranked 29 spots higher than the Croatian-born New Zealander. They have not played since juniors.
"She's a powerful hitter," Erakovic said. "She's got a great backhand and lefties are always tricky. You don't make the semifinals of the US Open unless you're a good player."
Erakovic could do the tournament a big favour by summoning the magic of 2008, when she made the semifinals.
Life at Stanley St has not been so sweet since. In 2009 she was knocked out in the second round and she has failed to progress beyond the first round in the past two Classics.
She went into last year's event after an injury-plagued 2010 and, after she was beaten 2-6, 2-6 by Vesnina, it was even put to her that she might be better served concentrating on doubles, where her strong net game is an asset.
Luckily she did not listen and instead 2011 turned into something of a watershed. With her previously troublesome hip at full health, confidence returned to the 23-year-old's game and she ended the year ranked 61, just 12 spots lower than her career high in 2008.
She also made her first career WTA final in Quebec City in September, losing to the Czech Republic's Barbora Zahlavova Strycova in three sets.
Erakovic said she was feeling good about her game, despite last night's loss. "I felt good. I didn't play too bad and felt like I hit the ball pretty good."
She is wary, however, that games at this time of year can be hit-and-miss affairs.