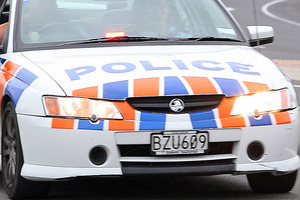 A Waikato man taken into custody by armed police after his drug-affected wife accused him of threatening her with a gun has been released without being charged.
Police were called to a service station in Pirongia about 5.45am yesterday by a woman who told them her husband was on drugs and had threatened her with a firearm while they were in a car together.
Pirongia Primary School was sealed off as armed offenders squad members and local police tracked a man to a nearby house. He gave himself up to armed police around the corner from the property.
Senior Sergeant Pete van de Wetering said the man was released after being interviewed. His wife was being held at Hamilton central police station under observation to detoxify from using methamphetamine.
It was hoped she would be referred for medical and psychological assessment, he said.
"Situations such as this morning's are unfortunate in that they disrupt the activities of many people needlessly," Mr van de Wetering said.
"Police take all reports of domestic violence seriously, let alone ones involving firearms and in such situations have to respond with a managed and appropriately scaled response designed to cope with the worst possible scenario. Fortunately in this case any potential tragedy was avoided."
A number of items pointing to unlawful use of illicit substances had been found at the house linked to the incident, Mr van de Wetering said.
But no charges were going to be laid. "The focus now is working to ensure the woman is afforded the help she needs to address any domestic issues and to help with the drug-related problems she is ... suffering from."APNZ