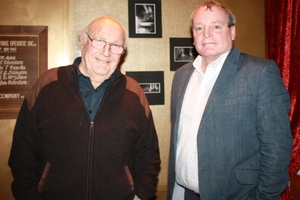 Orphan Oliver Twist's plea of "Please sir, I want more", is about to be answered for theatre fans in Dannevirke and Palmerston North.
In a groundbreaking venture to bring the theatre to more people, Dannevirke Theatre Company and Palmerston North's Regent Theatre Trust are joining forces to stage the hit musical Oliver.
The curtain will go up on the production in Dannevirke and Palmerston North in April and it will be the first time the two theatre groups have co-operated on a production, says Pat Snoxell of Palmerston North.
"My relationship with theatre in Dannevirke goes back to the 1970s and has continued through to Les Miserables in 2010," Mr Snoxell said.
Mr Snoxell has 50 years' experience as a director, with more than 200 shows. The 1962 Gang Show in Palmerston North was his first major production and The Pyjama Game in 1967 his first operatic one. He says his role as director is one of moulding people and ensuring the "play goes on", including overseeing the lighting, sound and backstage.
"When I suggested to the Regent Theatre Trust we join with the Dannevirke Theatre Company, they jumped at the chance," he said.
Auditions will be held in Dannevirke and Palmerston North.
"I've directed Oliver three times, in Hastings, Palmerston North and Dannevirke and it's a lovely show which bears repeating," he said. "Everyone loves a musical and Oliver is a good choice for a fickle public who don't have spare money for extras."
But it's not just the public struggling to stretch their budget to attend shows, theatre companies also have to balance their budgets.
"It takes money to put on a good production. You can have all the talent in the world, but if you make a mess of your budgeting you're in trouble," Mr Snoxell said.
With a cast of 60, including 20 boys, choosing carefully is key to getting a top cast.
"The cast will need to sing and move pretty well, as well as act," Mr Snoxell said.
"Nancy, the female lead, needs to be a very strong character, with a great voice as the song, As Long as He Needs Me, is well-known."
And finding a four-legged star, a white bull terrier for Bill Sykes the villain of the piece, could take a bit of doing Mr Snoxell admits.
The Dannevirke auditions for Oliver will be held during the second week of November.
For more articles from this region, go to Hawkes Bay Today