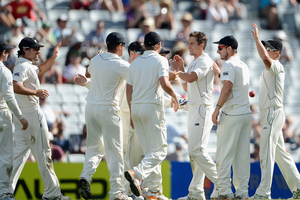 Shane Bond knew some fabulous days for New Zealand and the national team's bowling coach was chuffed with what he saw at Eden Park.
New ball men Trent Boult and Tim Southee tore through England's first innings, sharing nine wickets as the visitors were rolled for 204 handing New Zealand a 239-run lead. By stumps on day three, they had extended that, and were 35 for three.
Left armer Boult took career-best six for 68; Southee grabbed three for 44, in an impressive top-and tail job.
First they reduced England to 72 for five, then cleaned up the last four wickets for just four runs.
''I'm stoked," former pace king Bond said.
''They bowled perfectly for the conditions."
He was pleased for both for different reasons.
''Trent has bowled well for a long time, and this has been a reward a long time coming.
''I know Tim has been a little frustrated, with one wicket in 80-odd overs (in the first two tests). But in terms of consistency of length he's been our most consistent bowler and he's starting to show that experience."
Bond suspected Southee had been feeling the lingering after-effects of a thumb injury in December, but he's never doubted the 24-year-old's talent.
''I believe he can be one of the best in the world, and that's certainly my goal."
New Zealand have kept the same four frontline bowlers for all three tests in the ANZ international series.
''The group as a whole has done really well," Bond said.
''The good thing for these guys is they haven't had a day when they've had an absolute shocker. In general they've been pretty good."
And the key for the seamers when England set off in the fourth innings in this test? More of the same.
''Bowl as we did. We know exactly how to bowl in this wicket," Bond said.
''The challenge is to go out and repeat that. We need to be patient, It's showing signs of being up and down (bounce), with edges on to stumps and lbws. We need to hang in there."
England seamers James Anderson and Stuart Broad nipped out three New Zealand wickets late in the third day to show the world No 2 side won't give up without a scrap, a point reinforced by top-scoring batsman, wicketkeeper Matt Prior.
''We didn't bat well. I thought New Zealand bowled really well, in very good areas.
''Now we're in a position where we're going to need a bit of luck, and a lot of skill. It's still a good deck but we're going to have to bat a lot better. But we can chase these runs," Prior said.