First-rate wicket-taker has enjoyed 'house husband' duties but says layoff has fuelled desire to return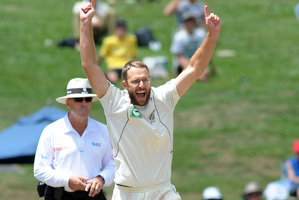 Daniel Vettori has put a circle around the date March 17.
That's when, all going well, he will mark out his bowling runup for Northern Districts in their Ford Trophy game against Auckland at Eden Park, ending a layoff that dates back to the world T20 in Sri Lanka in September.
New Zealand's premier spinner had his first run on Thursday as he recovers fitness after a lengthy layoff recuperating from significant problems in his left Achilles.
His time out, which has cost him tours to India, Sri Lanka and South Africa, has heightened his determination to play for New Zealand again.
Touch wood, he's eyeing the tour to England in May. He is even talking of the World Cup, to be hosted by New Zealand and Australia in early 2015, as a target, but there are many balls to be bowled before then.
"Absolutely it has," Vettori said yesterday of the fresh perspective the injury has brought.
"It has fuelled the desire to get back out there. I could come back and the Achilles might not respond, but it's a case of trying to get back and play now."
Vettori, whose 359 wickets in 111 tests make him New Zealand's second most successful test bowler behind Sir Richard Hadlee, and among the best allrounders of recent years, has always been coy on his future intentions.
He is wary of getting too far ahead of himself. But the tour to England and possibly the World Cup offer incentives for the former captain.
"It's easy to talk up when you're going to play but you've got to perform to get in the team. It [the injury] has responded well so far. The real test is how it shapes up over the next week or so."
The injury first hit Vettori in January last year. He played through it for a time, before it packed in at the world T20. At which point he was "sick of hobbling around".
He had close on two months off trying to build up for the HRV Cup and Australia's Big Bash League, where he has a contract with the Brisbane Heat.
When he started running again the injury didn't respond. A visit to a Melbourne specialist resulted in a three-month rehabilitation plan, which is up around now. Hence March 17.
There's no question Vettori, 34, has been missed. His test wicket-taking productivity has been lower than in his earlier years.
However, the absence of his bowling nous and ability to restrict runs, coupled with being among the most resourceful lower-middle order batsmen in the game, have demonstrated how much New Zealand have needed him.
A chance opened for Wellington offspinner Jeetan Patel to be top dog, but he's failed to take the opportunity. Auckland's left armer Bruce Martin may make his debut at Dunedin next week, depending on whether or not New Zealand go for a four-man seam attack.
Vettori has had plenty of time to get used to the idea of not playing the home tests against England. He has been a couch fan this season and spent the last few days in Queenstown training with the New Zealand A team.
He calls himself a "house husband" of late, a third baby having arrived recently, and while he's enjoyed the novelty of being at home in a New Zealand summer, admits he has missed the lack of day to day cricket involvement.
Vettori is due at the Indian Premier League with the Royal Challengers Bangalore in early April. He has been replaced as captain by Indian batting star Virat Kohli, Sri Lankan spin legend Muttiah Muralitharan is also in the squad, so Vettori knows he may spend time warming the bench.
But he's hoping there will be some game time, plus the chance to continue working on his fitness.
The tour to England starts on May 4, with the first of two tests beginning at Lord's on May 16.
"It's a great tour to go on, and you're judged on how you perform against England," he said. "If we can perform well in this series and replicate that away [from home] it will keep a lot of people happy."