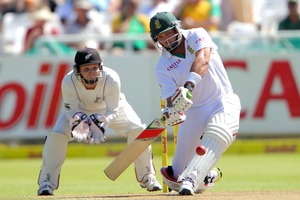 Ricky Ponting, weary and losing his batting gifts, packed it in last month at 37.
Rahul Dravid pulled out having turned 39 last January. Sachin Tendulkar ploughs on at 39, but now only in tests, and for how much longer?
Seasoned Australian Mike Hussey, still a strong, assertive performer, pulls stumps at the end of the Sydney test which started yesterday, at 37.
So, Jacques Kallis, how about it? You're 37, the fourth-highest run-maker of all time, and with close to 300 wickets the greatest allround cricketer, certainly in productivity, there has been.
He went past 13,000 test runs at Newlands on Wednesday and only Tendulkar, Ponting and Dravid, all specialist batsmen, have got there before.
What about the R word? Don't expect the burly man from Cape Town to leave the stage any time soon.
"I certainly haven't thought anywhere near retirement," he said, after helping take New Zealand's lame bowling attack apart before an adoring home crowd.
"I'm probably batting as well as I ever have in my career and hopefully I can carry on with that form for a little while longer."
So that's put to bed, then.
Kallis' 60 against New Zealand didn't suggest any diminishing of the powers, although he did have the odd uncharacteristic close call.
How about motivation? What drives Kallis on at a time when contemporaries are recognising the march of time and getting out - or in Tendulkar's case preparing the groundwork for the greatest farewell the game has seen next to Don Bradman?
Simple. The love of the game remains intact, plus a long memory. Kallis scored only 57 runs in his first seven test innings. It didn't come easily at first.
"It's a privilege to play in this team. I don't take anything for granted and make sure I put the hard work in behind the scenes.
"A lot of people say it's a pity about the start you had to your career. I look at it a different way.
"It probably made my career because when I do go through these good patches I try and keep them going, because I can remember back to when I started and things were tough. That keeps me going now.
"Most of all I'm still really enjoying my cricket."
Kallis appreciated going past 13,000 on his home ground, his favourite cricket turf. He received a rapturous reception which he appreciated. "A very special moment that'll live with me forever," he said.
His is not a headline-seeking personality. Kallis is happy to be a lower key, high achiever.
"I've probably got a little more recognition now, but it's something I've never really played the game for.
"The way I've played the game is to slip under the radar and carry on doing what I enjoy doing."
Which brings us to the S question.
Sobers or Kallis? The legendary West Indian Garry Sobers will always remain the world's most gifted allrounder for many. He, incidentally, ended his 20-year test career at 37 in 1974.
Compare the numbers. Sobers scored 8032 runs at 57.78 in 93 tests; Kallis has 13,040 at 56.94 halfway through his 159th.
Sobers took 235 wickets at 34.03 with his mix of left-arm swing and spin. Kallis has 282 wickets at 32.57 with his lively fast-medium pace.
One was a mercurial figure, capable of genius performances, but also prone to distraction and lapses; the other very much a feet-firmly-planted type, who is showing no signs of a waning of his powers.
The one concession Kallis is making to age is careful management of his remaining time.
He will miss some limited-overs fixtures to prolong his test career, but the World Cup in 2015 is a target.
The decision on knowing when to go is one so many stellar sportsmen and women struggle with.
Kallis reckons he's got it sorted.
"When I feel I'm not contributing to the team in the way I should be, or holding some youngster up, I'll definitely start thinking about it. But it's the furthest thing from my mind at the moment."
But time catches up with us all. It will Kallis, too, eventually. And he'll be sorely missed.
Greatness, after all, is not the easiest quality to replace.

Most test runs
15,645: Sachin Tendulkar (India) 1989-, 194 tests, average 54.32, 51 100s, 66 50s*
13,378: Ricky Ponting (Australia) 1995-2012, 168, 51.85, 41/62
13,288: Rahul Dravid (India) 1996-2012, 164, 52.31, 36/63
13,040: Jacques Kallis (South Africa) 1995-, 159, 56.94, 44/56*
11,953: Brian Lara (West Indies) 1990-2006, 131, 52.88, 34/48
* Still active
Next best active player
10,696: Shiv Chanderpaul (West Indies) 1994-, 51.67, 27/61 (8th overall)