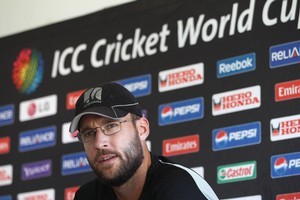 You'd think, wouldn't you, that a team like the Black Caps would need as many friends as possible.
Cricket is at a low ebb in this country. The national team is performing ordinarily, at best - beating up on the minnows and being beaten up by the big boys. Their tenure in the World Cup seems, well, tenuous.
Fans must be turning off in their droves. It is not exaggerating to say New Zealand Cricket is at a life-altering crossroads. It is in the entirely contradictory state of being awash in money but increasingly threadbare in support.
Every week, I hear more people express sentiments like: 'Why do the media give cricket so much space when we are so crap at it?'
The answer, so far, has always been that cricket is a large part of New Zealand's traditional sporting fabric and it is still followed keenly by thousands upon thousands of fans - even if they do not attend test matches; even if there is some weariness over one day cricket and even if the ugly slog that is Twenty20 is wearing thin as more and more people come to believe it is more about money than anything else.
The problem is also that New Zealand cricket in recent decades had won a well-earned reputation for being gutsy, competitive and able to make the best out of what they had. Note the past tense. Few people believe it of this team.
That's why the Black Caps' performance off the field after the capitulation against Sri Lanka was worthy of note. Fans don't normally get to see it.
After the match, touring journalists normally get the chance to speak to the player or players put up by the team management. This is a good chance for the team to front up; to talk about what happened and why; to give their side of things and even - as some sporting forces do very well - impart their spin on things.
It's also an integral part of representing your country. The national representatives turn up and talk openly about results; issues; incidents.
What do the Black Caps do after Sri Lanka? Coach John Wright won't talk until after training the next day. Stand-in skipper Ross Taylor talks for nine minutes and says little of significance. Tim Southee also speaks. For less than three minutes.
When Herald on Sunday cricket writer Andrew Alderson protests, team media manager Ellery Tappin tells him they are in a hurry to go back to the hotel with wives and girlfriends.
Says it all, doesn't it? Fair enough, the Black Caps are in a poor patch. Fair enough, they will be a bit gun-shy after all the recent criticism following that enormous and disheartening string of one-day losses. Fair enough, they may not know what to say or what to do to win.
But you never win friends or influence people by hiding in the hotel with the WAGs. We can exempt from this Brendon McCullum, who spoke with candour and no little charm in his interview.
Media arrangements on tour are sparse, to say the least - for this newspaper anyway. Having made the considerable sporting and financial decision to send a man on tour to cover it, he gets access to players in a "scrum" with competing media.
They number exactly two - a man from Fairfax who writes for competing daily newspapers and our competition on Sundays; and a man from radio, who gets access even to desired private chats involving the other journalists because he is a "rights-holder" (meaning his company has paid money to NZC to secure the radio rights). Why this enables him to sit in on print media work is a mystery indeed.
Alderson gets one chance a week to have a precious, one-on-one interview.
The only other time he can talk to players is as part of the group at practice and after the game - and we have already visited yesterday's "gab-fest".
Precious, did we say 'precious'? We meant it with the meaning of 'rare'. But there is another meaning. Scott Styris, for example, has made it clear he will not be doing print interviews on this tour, although he may have graced the electronic media with his presence; a medium with which he has become more associated towards the end of his career.
Overall, these are the actions of a sporting body which doesn't really seem to want print media coverage or the connection it offers to fans.
As for the players, sodding off to the hotel to join the WAGs sends the worst of messages - like they earn so much money from IPL and their NZC contracts that they can enjoy the five-star accommodation and trimmings and not have to worry about media and fans.
Let's be a little understanding. It is never easy examining one's own deficiencies, particularly when someone else is leading the questioning.
Siege mentality is a familiar element in sport (usually counter-productive).
But New Zealand cricket and cricketers need friends right now. Real friends, not the back-slapping, high-fiving, cheerleading sort who grin in your face and ask questions which suggest that everything is all right.
Let's park the whole John Wright issue. The people's choice; the media choice as coach with an avowed intention to fix the batting? Most of us agree he needs time to repair it - but it has now lurched from trying to hit sixes and getting out tamely; to trying to milk runs - and getting out tamely.
More than anything else right now, the Black Caps need friends. They will find, in time, such assets are precious.
We mean 'precious' as in valuable. Not 'precious' as in rare. What we've got is 'precious' as in let's go and hide in the hotel with the women.