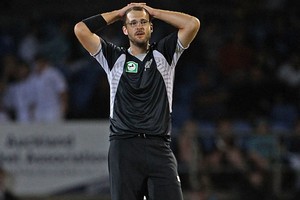 Daniel Vettori looks set to continue as captain of the Black Caps beyond the World Cup; at this stage, in all forms of cricket.
It's understood Vettori has accepted the need to continue in his current role as he forges a new relationship with new coach John Wright.
With Ross Taylor still in development mode as heir apparent, Vettori has decided to stay on - perhaps the first and most visible change of the Wright era.
Previously he had indicated he would give up the leadership after the World Cup. Yet it is clear the 31-year-old does not see an infinite future in the role. Once a suitable plan is in place, he will still step aside.
Sources say the skipper has been pragmatic in his acceptance of Wright's takeover, even if it was a defeat for perceived Players Association influence.
Vettori knew the subcontinent results demanded change and the team will consequently receive a boost in public support. He wanted - and was given - largely the same core group as a concession. He is also believed to be happy Wright has been appointed rather than having to build a relationship with someone new less than two months from the World Cup.
One reservation is believed to involve Wright's coaching of the World XI against Australia in 2005 - when Vettori was part of the team. In hindsight, it was a series of little long-term importance but he was perturbed by Wright's laissez-faire approach, despite an acknowledgment he is technically strong.
Vettori's captaincy role is expected to be more manageable with his reduced selection responsibilities. He has moved from official panelist to 'consultant' - still with a big say on team selection during tours.
It should now be easier for him to build a rapport with the players as a captain. There were previous reports players were not always willing to open up to him about perceived deficiencies in their games - because it could affect selection.
The only condition which could affect Vettori's situation is fitness. He has previously mentioned 35 as a potential retirement age but recurring back and shoulder complaints mean he might miss more one-day international series to prolong his test status.
Vettori has always been a dedicated student of the game. He knows the historical value of the five-day format and, as New Zealand's second test centurion behind Stephen Fleming (111), still has some milestones to reach.
One is passing Sir Richard Hadlee's 431 test wickets in 86 tests - Vettori has 339 in 103. At the current rate, it should take him around 28 more tests.
New Zealand has played exactly that number over the past three calendar years, although it is difficult to know how many they will play once the new Future Tours Programme starts in 2012.
Vettori will also be aware that, if he reaches 400 test wickets, it would make him the second member of the 4000-run/400-wicket club, India's Kapil Dev being the first. He is currently in a three-man 4000-run/300-wicket club with Dev and Sir Ian Botham.
Vettori has taken some time out to rest his injury this week on the Coromandel Peninsula. The break included helping father Renzo celebrate his 60th birthday.
It is also likely to have been a valuable time for contemplation after a tumultuous week as the power struggle over the Black Caps did a U-turn.
The decision to appoint Wright as coach, or at least vote for change, appears to have been almost unanimous in NZC's new Cricket Committee.
Their passion for cricket, belief in accountability to fans and the team's best interests outweighed sticking to the original plan.
The overwhelming populist value Wright brings is also said to have contributed. While Wright was one of several candidates, his credentials stood out by some distance.
That made him the logical person to be shoulder-tapped by NZC chief executive Justin Vaughan and offered a mandate to run the team.
That mandate is already evident with his decision to scythe through the previous support staff. Performance director Roger Mortimer, coaches Mark Greatbatch, Shane Jurgensen and Mark O'Donnell and physiotherapist Kate Stalker are already gone.
Dave Currie stays for now as manager, while New South Welshman Trent Woodhill, who joined the group before the tour to Sri Lanka mid-year, moves from performance adviser to assistant coach. He has previously worked with the Delhi Daredevils in the Indian Premier League.
Fitness trainer Bryan Stronach remains, while Dayle Shackel returns as physio after a two-year absence.