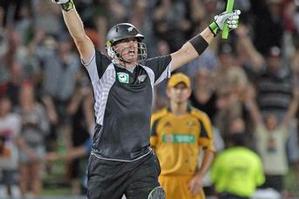 Be it by accident, design or natural selection, Scott Styris has once again proven his qualities as a match-winner.
He deserves to be included in the Black Caps for the Twenty20 World Cup starting late April in the West Indies. After six tidy overs, his 49 off 34 balls was signed off with a six, signalling a mighty return in the opening one-dayer against Australia.
The rawness of the emotion following his final stroke into the stands in Napier exhibited shades of John Rambo in First Blood, especially after his mid-pitch confrontations with Mitchell Johnson.
As the Herald on Sunday argued at the end of January, it seemed nonsensical to leave him out of the side for the Bangladesh tour.
He was in fine form, second in the HRV Cup MVP standings at that stage before eventually going on to top the table.
Yet if Daniel Vettori had not injured his neck ahead of the first Chappell-Hadlee match, fans might not have seen Styris' abrasive aggression in the first two matches, at which point the series could have been all but lost.
If Jacob Oram hadn't suffered his injury, the pressure would have been on over who should be left out for the remainder of the series. As it is, that pressure will linger when it comes to selecting a team for the Caribbean.
Gareth Hopkins' quick Twenty20 runs against the visitors will count in his favour but, with Jesse Ryder expected to be fit, that also means Peter Ingram and James Franklin will come under scrutiny to earn places in the starting XI.
Franklin is a contender for the middle order in the 50-over format. At present, he has had only six starts in that role, two of those coming prior to October last year.
Since then, he has averaged 22.33 in four innings, a far cry from Styris' career effort of 32.41 from 161 matches up until last night.
Neil Broom's record will also now come into question at 50-over level. He's played at No 6 in 12 of his 18 matches up until yesterday, averaging 24 at a strike rate of 78.
One argument could be to swap Styris and Franklin for the time being. Styris' ability to finish off an innings might mean he stays at seven and prepares to fulfil a finishing role, much like Brendon McCullum before he made the transition to opener.
It might result in less extravagance but that's acceptable if the runs flow steadily, as they did on Wednesday.
An allied question: how good are Australia? Yes, they had won their previous 13 one-day internationals and four Twenty20s but this is a weakened unit, given the much-documented personnel they've lost in recent times.
Certainly the batting remains powerful but bowling is the area where New Zealand can continue to strike. The obsession with speedball radars might be one thing as observers salivate about the 160km/h mark as if it were the four minute mile.
Accuracy is another thing. If there's any excessive width or an error on length, there are no recorded statistics as yet on how hard balls hit boundary hoardings.
Another question is how motivated Australia are for the series. Of the 15 completed Chappell-Hadlee matches up until last night, Australia has won just seven, yet at 17 neutral venues, they've won 16 times, the exception being the World Cup loss in 1999 in Cardiff.
It seems playing to and fro across the Tasman still suits New Zealand best.