New Zealand 66 Australia 64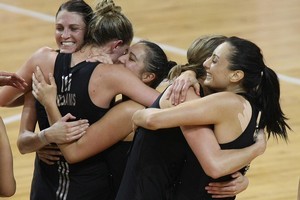 The Silver Ferns brought New Zealand's Commonwealth Games to a golden conclusion last night, beating Australia in the most dramatic fashion possible.
In one of the great displays of clutch shooting, Maria Tutaia nailed victory on the two-goal rule after the scores were deadlocked following extra time.
Time and again Irene van Dyk, the best shooter in the history of the game, deferred to the ice-cool 23-year-old and every time she hit nothing but net.
"I'm just lost for words. We knew it was going to be a game like this," a jubilant Tutaia said.
"I'm just so stoked. My calves were cramping up, that's why I was getting a bit worried," she said. "I'll tell you what: I can't even talk."
Commonwealth Games medal table
The Aucklander admitted to nerves as the pressure mounted, though she never showed it.
The Silver Ferns - defending the netball gold they won four years ago in Melbourne - have been on the end of plenty of tear-jerking losses to Australia.
But this would have topped the lot after they blew a seven-goal lead in the final quarter.
New Zealand ended the Games with 35 medals, six of them gold.
If there was a table for coming second, New Zealand would be fourth, having collected 22 silvers over the 11 days.
The tally is three more than in Melbourne, when it was acknowledged that they had a poor Games.
In last night's game, coach Ruth Aitken opted to start Katrina Grant at goal keep alongside captain Casey Williams.
Temepara George started at wing attack, and Laura Langman and Joline Henry filled out the midcourt.
Tutaia started at goal attack alongside Van Dyk, but it was a combination that struggled to gel in the first quarter, when the shooting accuracy floundered on 69 per cent.
The first quarter was not much of an advertisement for the sport, with countless penalties and several errors - not unusual in matches of such importance between the two great rivals.
Australia led 10-9 at the first break, and had extended that to 23-20 at halftime.
New Zealand, who seemed to have the lion's share of neutral support at Thyagaraj Stadium, were nowhere near hitting their straps.
In midcourt there was no rhythm - Langman and George seemed to be playing to different instructions - so it came as no surprise when Aitken shuffled her cards.
Anna Scarlett came on in place of Henry at wing defence, and Liana Barrett-Chase took George's bib.
Immediately the pair added a sense of urgency and, in Barrett-Chase's case, some coherence through the attacking third.
But Australia looked in desperate need of fresh legs as New Zealand clawed back the three-goal deficit and then some, leading 35-33 into the final quarter.
The roll they established in the final minutes of the third quarter continued in the fourth. Suddenly, with Australia captain Sharelle McMahon calling for treatment, New Zealand had what looked like a near-unbeatable lead.
But never count out a wounded Australian. Catherine Cox came on in place of Natalie Medhurst and immediately the lead was reduced to two.
Cox can have her off days; this wasn't one of them. She came out red hot and stayed hot until, twice, she had a shot to win at the death.
Tutaia didn't miss, sparking scenes of jubilation, players rolling on the floor and embracing in ecstasy.
There were tears too, but for all the right reasons. Australia's tears would have tasted much more bitter.
In the bronze-medal playoff, England were far too good for Jamaica, winning 70-47.
List of New Zealand medallists