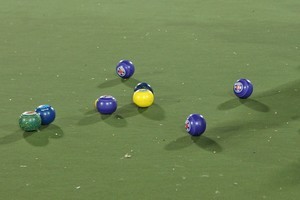 NEW DELHI - Bowler Ali Forsyth was last night knocked out of the Commonwealth Games men's singles event, falling one match short of making the semifinals.
However, women singles world champion Val Smith kept New Zealand's medal hopes alive by winning her first playoff match against Scotland's Claire Johnston 9-7, 6-5.
Smith, of Nelson, was to face Australian Kelsey Cottrell overnight.
Forsyth was beaten by Australian Leif Selby 2-11, 13-1, 4-3 in a match in which the players experienced almost totally contrasting fortunes over the first two sets.
Nelson-born but now based in New South Wales, Forsyth took control of the opening set by winning the first three ends and finished in style with a four on the ninth and final end.
But Leif turned the tables by dominating the second set from the start to send the contest into a tiebreaker.
The Australian was the quicker out of the blocks in the tiebreaker and a three by Forsyth on the third and last extra end left him short.
Forsyth said it was a case of his opponent playing the decisive bowls when it counted.
"I got a really good start in the first set and Leif in the second got a three and a three," he said. "If you can pick up an early number like that, it just puts so much pressure on the opposition, because you're playing catch-up from the get go and it's difficult against a world-class player."
Forsyth was reasonable happy with how the past five days had turned out for him.
In preliminary play, he lost just one match to finish second in his section.
"I came so close and dropped only two games," he said. "I just happened to lose one at the wrong time."
Forsyth, 30, is attending his first Commonwealth Games and he said the experience had whetted his appetite.
He hadn't yet looked ahead to the next Games in Glasgow in 2014.
"If I could stick around until then, that would be pretty cool and I would be keen as to go."
- NZPA