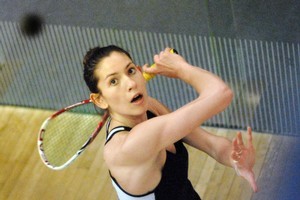 New Zealand emerged with a gold and silver medal at the end of a Commonwealth Games doubles squash campaign to savour here tonight.
Cambridge 22-year-old Joelle King was adorned with a medal of each colour after winning the women's final with Jaclyn Hawkes and following that immediately with a three-game loss in the mixed final with Martin Knight.
It ended a marathon campaign for King, who was overjoyed after coming off the court with Hawkes, having down England second seeds Jenny Duncalf and Laura Massaro 11-9 11-10.
"Since I was a little girl I've dreamed of winning a gold medal," she said.
"It's just above and beyond anything I could have expected and my partner here was pretty awesome.
"We just kept telling each other we can do this."
Hawkes was ecstatic, describing her gold medal as a career-high.
"We're over the moon," she said, adding that nerves were never a factor against their higher-ranked opponents.
"We didn't get too excited or anything, we just stuck to our game plan.
"We had a good combination because I was steady on the backhand and Joelle was so dominant on the forehand."
King and Knight won the first game against Australian top seeds Cameron Pilley and Kasey Brown but they couldn't sustain their standard, losing 11-8 7-11 5-11.
New Zealand went close to matching their achievement in 2002 when gold was collected in the same two events at the Manchester Games. On that occasion Leilani Rorani claimed twin golds for her deeds, alongside Carol Owens in the women's event and Glen Wilson in the mixed.
History wasn't on the minds of the New Zealanders today, who lifted the country's gold tally in Delhi to four.
It was also a reward for several months spent focusing on the rarely-played doubles discipline.
In a tense women's final that lasted five seconds short of an hour, the New Zealanders won the big points, including the last five of the of a second game they seemed destined to lose.
The fourth-seeded pair have been untouchable this week and saved their best performance for the final, where they played well above their standing in world squash.
King has singles ranking of 20 and Hawkes 14 yet their teamwork was too much for world No 2 Duncalf and No 7 Massaro.
The English pair began by attacking the backhand of Hawkes to good effect but the 27-year-old grew stronger as the match developed, mixing her pace of shots well. King was again a dominant force on the forehand side, controlling the front of the court against Massaro and always searching for volleyed winners.
The first game was a ding-dong struggle, with the scores rarely more than a point apart before New Zealand pulled away late.
England bounced back in the second, racing 9-3 clear and then 10-6 before the New Zealanders steeled for a fight.
"I think we were 10-6 down and we just told each other we were going to make it so hard for them to win this game and we did," Hawkes said.
"I think they got a bit tense when it got to 10-9, 10-all and, yep, we won."
- NZPA