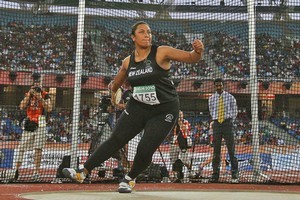 New Zealand may have seen the last of Beatrice Faumuina in a black singlet at a Commonwealth or Olympic Games.
The 1997 world champion gave her strongest hint yet - with fifth place last night in Delhi - that she will retire.
Faumuina, who first medalled at a Commonwealth Games with silver in 1994 at Victoria, produced a best throw of 57.79 metres at the Jawaharlal Nehru stadium. That placed her fifth in an already weakened field which did not include world champion Dani Samuels of Australia.
All three medallists were Indians. Faumuina's best throw of the year - 61.11 metres set in January - would have placed her second.
She acknowledged her time as a professional athlete is almost up.
"I'm 35 and I can't see myself going to 39. I'm disappointed I let people down. If all things were fair I would have embraced more help.
We did what we could but this year has been hard. I've worked and studied part time.
I think there's a perception I'm a full time sponsored athlete and that's not the case. I don't get any funding.
"To be my last major championship and not get that support just shows what could have been."
The double Commonwealth champion of 1998 and 2002 also lamented it was the first time she has been at a major meet without a coach. Ross Dallow, her mentor of the last couple of years, stayed home in Auckland for personal reasons. Faumuina would not elaborate out of respect for his privacy.
"It's disappointment more than anything. I would have loved to have my coach here but it wasn't meant to be. If he was here I would have looked at him in the ring and said 'what do you think?'.
"We had to deal with it as best we could. It's a real shame because it is probably my last Commonwealth Games. I totally respect what he has done."
Faumuina reflected fondly on a year where she felt she had earned the public's respect again after experiencing a torrid time a couple of years ago with her 28th place at the Beijing Olympics.
We drove and competed around New Zealand and we loved it. What I really enjoyed was the support. It was overwhelming.
"They [athletics aficionados] acknowledged I've changed my whole technique over the last couple of years and that's incredibly difficult but I wanted to take on the challenge. I don't want anyone to say I was afraid to make changes."
Faumuina was reflective for the most part, but when asked if there was sadness in the moment she was able to raise a smile.
"I'm not going to cry in front of you buddy, you'll never see me do that.
"I will cry in the sheds afterwards. I never like coming out here in the black singlet and disappointing people. It's the last thing I want to do, especially in a career like mine with incredible highs and lows."
Faumuina says she will now go home to earn some income to pay off her visa before deciding in three months what she wants to do.
The likelihood is the discus will not make the shortlist.