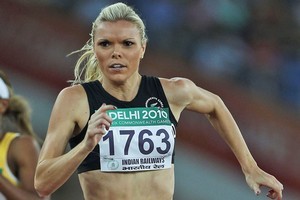 The Commonwealth Games 200m women's final has proved more dramatic than Tokoroa sprinter Monique Williams was expecting - bizarrely it wasn't even held.
When Williams, 25, finished second in her semifinal, she set about planning for the final two hours later.
Now she must return to the track tonight to run a race she wanted done and dusted last night.
A series of protests and counter protests threw the race into unresolvable turmoil, so instead of taking the blocks for her first Games final, a confused and annoyed Williams wound up packing her bag and going home. (Monday NZT)
After the semifinals, a protest was lodged that fastest qualifier Eleni Artymata of Cyprus had touched the line on the inside of her lane while running the curve.
The race was held up while officials looked at video footage to see if that was the case.
They decided that it was, and disqualified Artymata.
With Artymata having 30 minutes to protest, and the race late on the evening's programme, the organisers opted to postpone the 200m final for a day.
It all took what was an unhappy and stressful couple of hours for Williams.
The disqualification meant the lanes were redrawn, to one she didn't like, then she had to wait for two hours with eight other wound-up sprinters - Artymata and her potential replacement were both there - with all of them wondering what was going on.
When she left the track, Williams was still in the dark.
"It was all very confusing. I don't know what time I'm racing, or who I'm racing against," she said.
Williams prides herself on her strength and fitness, so likes to back up 200m races two hours apart as she fares better in the second one. She is miffed that will now no longer be the case.
"Now we are all going to turn up fresh, it's not fair, it's not right at all."
Williams ran second in her semifinal in 23.63 seconds to go straight to the final. Her time was seventh fastest out of the semifinals - if Artymata's 23.15sec counted.
With her race postponed, New Zealand will now have four athletes in Monday finals as well as defending champion Nick Willis in action in the men's 1500m.
Games 1500m silver medallist Nikki Hamblin will run the 800m, Andrea Miller the 100m hurdles, and Beatrice Faumuina will take part in the women's discus.
Hamblin made the 800m as one of the two fastest losers, after running third in her heat.
She was perfectly placed to the turn, but cut down late by Englishwoman Hannah England and with only the first two to go through to the final, had an anxious wait for the final results.
Hamblin got through as the second of the two fastest losers.
Miller ran a season's best in the 100m hurdles for third in her heat behind Australian Sally Pearson, who won the 100m in Delhi before being stripped of it hours later for breaking at the start.
Miller clocked 13.34sec which put her into the final as the fourth-equal fastest qualifier.
Aucklander Elizabeth Lamb tied for sixth in the high jump, with a best clearance of 1.78m.
She cleared 1.68m, 1.73m and 1.78m with her first attempt, then failed three times at 1.83m.
Nicole Forrester of Canada took gold with 1.91m.
- NZPA