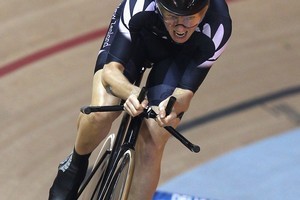 NEW DELHI - The wait is over. An exhausted Alison Shanks brought a heady mix of relief and joy to New Zealand after powering to a Commonwealth Games track cycling gold medal here tonight.
After three days of collecting minor medals behind the Australian juggernaut, the track cycling team at last had something to celebrate in unadulterated style after Shanks unveiled a stunning ride in the 3000m individual pursuit.
The Dunedin rider dominated qualifying and produced a lung-busting effort in the final to head off arch-rival Wendy Houvenaghel of Northern Ireland.
Shanks, 27, won in three minutes 30.875 seconds, fractionally outside the Games record and 1.262sec faster than Olympic silver medallist Houvenaghel.
You couldn't wipe the smile off Shanks' face as she circled the track after winning and when hugging the New Zealand team members who greeted her in the middle of the track.
Shanks completely dominated the middle stages of the final.
She was slower out of the blocks than her opponent and had dropped 0.761sec off the pace after two laps.
However, she recovered quickly and was in front after 1000m, building steadily on a lead that crept up to 1.335sec at its peak before Houvenaghel made some late but futile inroads.
It was a repeat of the result when the pair met in last year's world championships final, the only other major international medal Shanks had won before today above World Cup level.
She was fourth at the Melbourne Commonwealth Games in 2006 and repeated that result at the Olympics two years ago.
Adding to New Zealand's pleasure was the Australians were shut out of the medals, with Shanks having overpowered their best hope, Josephine Tomic, in qualifying.
There the New Zealander clocked a sharp time of 3min 32.114sec, more than 2sec quicker than Houvenaghel.
Shanks' win maintains a fine New Zealand tradition in the event.
Sarah Ulmer won Commonwealth Games gold medals in 1998 and 2002 before her famous Athens Olympics triumph of 2004.
Earlier, New Zealand's Jaime Nielsen missed out on a bronze medal when she lost a ride-off against Canadian Tara Whitten.
Fourth-fastest qualifier Nielsen clocked 3min 39.923 sec, which was nearly 4sec behind Whitten.
Points race silver medallist on Wednesday Lauren Ellis of New Zealand was the eighth-fastest qualifier in 3min 41.592sec.
New Zealand cyclists have won eight medals - a gold, four silvers and three bronze - in track cycling.
More will follow today, with the men's sprint team of Eddie Dawkins, Sam Webster and Ethan Mitchell having qualified second-fastest this morning to set up a final against Australia.
Australia are without Shane Perkins, the sprint gold medallist who withdrew today from the team sprint as penance for making a rude gesture at officials.
Perkins was disqualified in his keirin heat on Wednesday for dangerous riding and after a later ride-off, aimed a two-fingered salute at cycling officials.
New Zealand's other medal hopes today rest with Shane Archbold and Marc Ryan in the men's 15km scratch race, the final event on the programme.
- NZPA