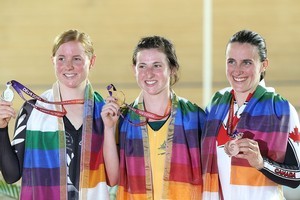 Outstanding prospect Lauren Ellis added to BikeNZ's medal haul with silver in last night's points race.
In a thrilling denouement, the race came down to the final sprint where she was pipped by Australia's Megan Dunn.
The 21-year-old from Hinds in Canterbury finished on 40 points, five behind Dunn.
"I had Megan's wheel, I was on it," Ellis said. "I kind of lost it and this chick came down and pushed me off the wheel. I actually hit her wheel on the last corner and nearly came down. I knew I had to try to get back there but I used so much energy just getting in that position. I gave it a go, but it didn't come off."
Dunn described the Ellis challenge as determined.
"We challenged each other and she was so strong," Dunn said. "It came down to that last sprint and there was no way she was going to beat me to that line."
It is already becoming a familiar refrain at the Indira Gandhi velodrome, New Zealand scooping up minor medals while the Australians bask in gold.
After five events, there had been no need to take Advance Australia Fair off the turntable and it took Malaysian Josiah Ng to end the run when he won the keirin final.
Track coach Tim Carswell signalled before the event that the transtasman neighbours would be the teams to watch, but even he can't have expected such dominance.
Take nothing away from Ellis though.
She raced smart tactically, attaching herself to a five-person break with 69 laps to go. They lapped the field with 61 laps to go, automatically accruing 20 points on the field.
She then competed for all but one of the remaining six sprints, winning three. Each sprint is worth five points.
It was not enough to catch Dunn, however, who had also featured in the early sprints.
Ellis got great support from Joanne Kiesanowski and Rushlee Buchanan, who threaded her through the peloton and did more work at the front than anyone else in the field.
"They equally deserve the credit. They were amazing in the race. If someone sprinted up the road I knew they were there to cover it. They were looking out for me the whole race."
Ellis has long been considered blue-chip talent, having won silver medals at consecutive world junior champs in 2006 and '07.
Along with the silver she won in Copenhagen this year, she's gathering quite a collection of that particular metal.
"Yeah I am," she sighed. "I'm so proud to get the silver but you always go out wanting to win the race.
"It was a good calibre of riders out there. With the world champion [Tara Whitten], I stuck near her because I knew she'd be wanting to go for the break and it paid off."
Whitten eventually won bronze.
Ellis has a rest day today before the individual pursuit tomorrow.
In the men's points race, Australian hegemony was restored after the shock of not winning the keirin.
Cameron Meyer blitzed the field in the 160-lap event by 37 points.
Aaron Gate was the best-placed New Zealander in fifth, 65 points behind Meyer.
New Zealand now has two bronze and two silver from the first two days at the velodrome.