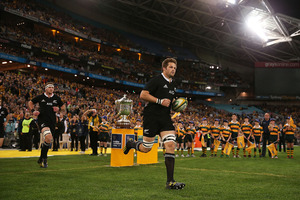 Having watched Richie McCaw motoring around in the Sydney test I'm predicting he might make the 2019 World Cup.
After a long holiday, most people do boring things like mow the lawn and rescue the angry family cat from up a tree.
Maybe Richie McCaw does mow his own lawns and has a cat with a grumpy face but for the sake of this piece, he breaks the rules by - drum roll - playing a rugby test straight after his holiday.
It was absolutely amazing to watch him charging around as if he'd never been away, even though it was hardly unexpected. One of the many things about McCaw is that he is very noticeable. He's not the biggest of forwards, but he looks like the biggest forward. Whether he's nabbing a turnover or getting penalised or making a tackle, he seems to fill up the screen.
Sam Cane, his understudy, did a lot of work against France this year but he hardly got noticed. Even when he crucially charged down a drop kick, hardly anyone remembered Sam Cane.
The only time people don't notice McCaw is when they should. Israel Folau went on one burst late in Saturday night's test and there in the background you could see the inevitable - R. McCaw steaming into view, holiday forgotten, living on hope, putting himself in a position. And hey presto: Folau chucked the ball straight at - you guessed it - McCaw. Some opponents also claim that referees can't see McCaw, even though he's always tangled on their side of the ruck. But that's another story.
Okay, so this was hardly the perfect return. McCaw got pinged for three offences, fumbled the ball a few times, and was a lifter in a lineout that went wrong from which Will Genia scored a great try. But none of that matters much. He took an early hit, got up, got stuck in, made repeat tackles, made the most All Black runs, messed the Aussies up, scored a try, took everyone's attention. The Aussies will be having nightmares, thinking they are never going to see the back of McCaw. Cane might be wondering who retires first.
The legend has only grown. Will he ever stop? Did he run home after the test match? Why don't bits of his body break like everybody's else's and when they do, why doesn't he break?
Is there a chance one day he'll welcome a youngster with a name like Thorn into the All Blacks and reminisce, "I used to play with your dad"? Could McCaw create yet another record and become the first All Black to get two super sabbaticals? Maybe he'll play so long that by the end of his career, someone will have figured out decent scrum rules.
It all lies ahead for young, 32-year-old Richie McCaw. For a bloke with 117 tests, he's showing a lot of promise.
New scrum rules
The new scrum engagement rules are working but seem unfair. There are fewer resets and shenanigans, for sure. But at what price? In the Sydney test, the team putting the ball in - the team that strongly deserves to retain possession - is at a clear disadvantage. I counted 12 scrums in the match, and the team putting the ball in only retained or cleared it efficiently three times for one reason or another, including the concession of penalties. A renewed emphasis on the hooker having to strike for the ball might be handicapping the front row of the team with the put in.