Call 'em crossovers, call 'em soft roaders, they're our driving force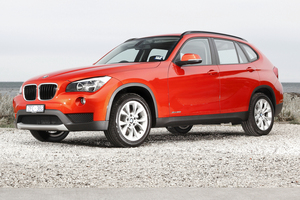 We all know why the term "four-wheel-drive" has been replaced by "sports utility vehicle" or "crossover": because for about 20 years, the main appeal of these vehicles has been everything to do with style, space and image, and much less connected with the far-off places they can theoretically go.
Toyota and Honda knew this back in the mid-1990s when they invented the compact-crossover segment. The original RAV4 and CR-V were vehicles that offered the look and interior versatility of off-roaders, but were built on road-car chassis. The rest is history: bold concept, big hit, everybody joins the bandwagon.
You'd think the next logical step for the "soft roader" genre would have been to ditch the 4WD system completely. It did happen (Toyota has been making 2WD RAVs for decades, for example) but only in a small way. Four-wheel drive is still very much the norm for these vehicles.
But 2WD just makes so much sense, doesn't it? Less weight and less expense - and let's face it, most crossovers in this segment run on-demand drivetrains that are 2WD drive most of the time anyway, until things get slippery.
These models are certainly out there - even if you don't hear a lot about them. Surprisingly, Toyota and Honda have been the last brands to join the 2WD brigade in Kiwiland.
Toyota New Zealand launched a 2WD RAV4 (so shouldn't that be a RAV2?) for the first time this year, while Honda introduced a similarly configured CR-V in 2012. Both have put renewed focus on the inherent good sense of a 2WD 4WD vehicle. So to speak.
Here are 11 to consider, in no particular order, in the compact-crossover segment.
Yes, there are 11! And that's not even all of them ...
BMW X1
Which ones? The sDrive 18d, 20d or 20i, $65,600-$71,000
BMW is never shy about bending a genre or two. The little X1 - about the same size as a 3 Series - comes in petrol and diesel powertrains with an eight-speed automatic gearbox, with two- or four-wheel-drive. You just have to know your nomenclature: the former is sDrive, the latter xDrive.
The X1 has its detractors, but the 2WD versions have a unique selling proposition in this segment: being proper BMWs, they're rear-drive.
HONDA CR-V
Which ones? The S models, $37,990-$39,900.
Honda introduced a new CR-V last year with a little more and a little less. It came with the brilliant Magic Seat cargo-carrying system, for example. But you could also option a smaller 2-litre engine with 2WD (the 4WD model has a 2.4-litre). It's not a bad way to go: the smaller engine is a little sweeter.
MITSUBISHI OUTLANDER
Which ones? The LS in 2- or 2.4-litre Mitsubishi's retro-futuristic styling comes with some forward-thinking powertrain technology. However, the 2WD Outlanders are definitely aimed at the fleet end of the market: if you want a posh VRX or diesel engine you'll have to go 4WD.
HOLDEN CAPTIVA
Which ones? In Captiva 5, the 2.4-litre petrol. In Captiva 7, the SX-specification 2.4 petrol or 2.2 diesel, $38,490-$45,890.
Captiva has become a big success story for Holden: biggest-selling crossover in the country and the third biggest-selling passenger vehicle overall last year.
Not surprisingly, there is no shortage of model choice. You can have a Captiva 5 or Captiva 7 in 2WD (both cars have totally different body styles and interiors). The petrol-four is fine, but we'd be tempted by the torque 2.2-litre turbo diesel available in the seven-seat version.
KIA SPORTAGE
Which ones? Urban LX or EX, $34,240-$38,240
Who'd have thought? The Hyundai ix35's paternal twin, the Kia Sportage, also comes in 2-litre 2WD form. You've got to like the 'Urban' name and the Sportage not only looks good, it looks like good value next to the Hyundai.
MAZDA CX-5
Which ones? 2-litre GLX or GSX, $39,695-$41,495
Mazda was onto the 2WD thing straight away with its CX-5, which was Driven's Car of the Year 2012. These versions haven't picked up the 2.5-litre petrol engine just introduced to the 4WD versions, but they're still full of SkyActiv technology and the price-point is impressive.
NISSAN QASHQAI
Which ones? All of them, $37,700-$45,200.
Full credit to Nissan for being committed on this one: Qashqai has never been offered with 4WD in New Zealand (although it is overseas): all versions of the hatchback and seven-seat wagon are 2WD-only and proud.
It's catching on: Nissan has also launched a 2WD entry-level version the drive Suzuki Grand Vitara of its more conventional off-road vehicle, the X-Trail (which is based on the Qashqai platform).
HYUNDAI iX35
Which one? The 2-litre 2WD, $40,490
Just like big brother Santa Fe, the ix35 comes in a front-drive version. However, in this case the 2WD version has a smaller powerplant than the rest of the petrol range (2-litre versus 2.4), although it still gets the benefit of Hyundai's slick six-speed automatic transmission.
SKODA YETI
Which one? The TSI 77, $37,500
Bit of a critics' choice, this one. Skoda's appealing and talented little crossover came with a diesel engine and 4WD first, but now it's also available with a perky 77kW 1.2-litre engine, an eager seven-speed dual-clutch gearbox and of course 2WD.
SUZUKI GRAND VITARA
Which one? The JLX five-door, $34,990
Now, this is interesting but a mistake we fear. The Grand Vitara's USP is that it's one of the last proper off-roaders in this segment: proper ladder chassis, go-anywhere ability. It lacks polish on the road compared with its rivals, but that's merely opportunity cost.
This new 2WD version might be an attempt to follow fashion, but we reckon the Grand Vitara is at its best rock-hopping and up to its wheelarches in mud. Thankfully, there are still versions that do that.
TOYOTA RAV4
Which ones? The 2-litre GX or GXL, $39,990-$44,490
Back where we started: Toyota has taken on this 2WD crossover thing rather confidently with the latest RAV4. You wouldn't know it to look at, but the powertrain for this model is very different to the 4WD petrol versions: they have a 2.5-litre engine and six-speed automatic gearbox, whereas the 2WD version has a 2.0-litre with Continuously Variable Transmission (CVT).
You guessed right: the RAV4 2WD is essentially an upsized Corolla. Makes sense.