Jamie Merrill checks out the staggering spec of the successor to McLaren's F1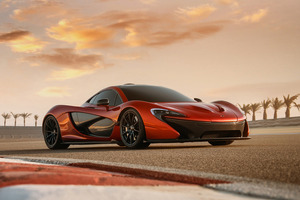 After debuting at the Geneva Motor Show last week, there's no doubt McLaren has grand ambitions after confirming the details of its long-awaited P1 hyper car, the spiritual successor to the 1993 McLaren F1.
The Woking-based sports-car manufacturer has confirmed it will have a top speed of 350km/h and a price tag of $1.57 million. It will be powered by a mid-mounted twin-turbo 3.8-litre V8 engine but this will be combined with an electric motor for a combined total of 673kW, a healthy 205kW more than the McLaren F1.
The car's weight has not been confirmed but it is expected to hit 100km/h in less than 3 seconds, 200km/h in under 7 seconds and 300km/h in less than 17 seconds.
The F1 still wins in the top-speed stakes, though. It famously hit 391km/h back in 1998. The P1's speed is electronically limited and is slower than the claimed speeds of both the Aston Martin One-77 (now out of production) and Noble M600.
McLaren is keen to point out the P1 isn't just about speed, though, but about everyday usability combined with handling thrills.
"The P1 is designed to be driven to a racing circuit with great levels of comfort and refinement, then be used on a racing circuit where it will offer an experience only matched by purpose-built racing cars," said the firm's managing director, Anthony Sherriff.
The P1's engine is a hybrid combination of a specially configured 537kW version of the firm's V8 engine and a McLaren-built electric motor. The power is sent through a seven-speed twin-clutch automatic gearbox and at the top of its power it uses the instant thrust of its electric motor to boost acceleration, while up to 50km/h it can run on electric power only for 20.1km.
This hybrid powertrain means the P1 emits an average of 200g/km of C02. The figure is more than the average family car but is tiny when compared to most other super cars. The Bugatti Veyron, for example, emits 559g/km, while the figure for the Aston Martin Vanquish is 335g/km.
In addition to its innovative petrol-electric engine set-up the P1 uses an all-carbon chassis tub (similar to set ups used by Aston Martin and other performance car manufacturers) to reduce weight. The firm claims the tub is also twice as stiff as steel.
The firm had planned to build around 500 P1s but, according to Autocar magazine, the firm has reduced that number to 375 to guarantee exclusivity when it goes on sale next month.
-Independent