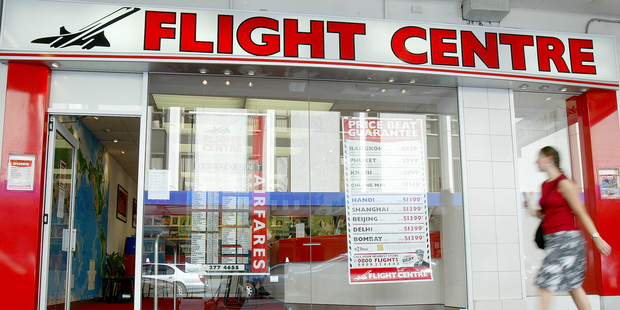 Revenue at Flight Centre's New Zealand business has surged in the past half-year, contributing to a record result for the Australian-based travel agent.
For the six months to December 31, the Flight Centre group posted a 22 per cent rise in profit to A$111 million ($120 million).
Revenue from the group's 186 New Zealand businesses rose 26 per cent to A$376 million.
New Zealand earnings before interest and tax for the six months were $3.8 million, the best result since 2007.
New Zealand general manager Mike Friend said the local division hoped to build on last year's full pre-tax profit of $16.1 million.
Growth was coming from leisure travel rather than corporate business and was being driven by high consumer confidence, the high New Zealand dollar, cheaper air fares and new products sold through New Zealand stores.
The company's managing director, Graham Turner, said Australia, Britain, Singapore and China delivered record first-half earnings and New Zealand and South Africa recorded "strong" year-on-year growth.
India and Dubai both performed solidly but the United States and Canada finished the half "below expectations".
Meanwhile, online travel group Australian-based Wotif.com has posted an 18 per cent slide in its half-year profit. Wotif said it had made a net profit of A$22.6 million for the six months to December 31, down from A$27.5 million a year ago.
The company attributed most of the losses to increased spending on marketing and information technology.