Millennials are masters at using marketing avoidance devices, writes Kevin Mallloy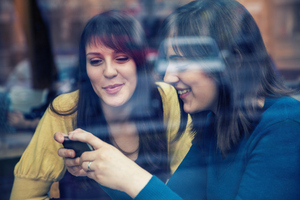 High Street is moving to i-Street but you don't have to be Nostradamus to make that prediction.
Online shopping and e-commerce are supplanting many bricks and mortar retailers and, in some ways, our physical retail world is shrinking. But our online parameters are, at the same time, expanding at a dizzying rate.
The world has never been so close, particularly if you were born in the 1980s and 1990s.
The Millennial generation is having the most significant impact on commerce today because they are truly different from Gen X and the Baby Boomers - and not just because of the technology.
The way they use technology is fundamentally different and poses challenges to businesses trying to get their attention.
They are the first truly globally interconnected generation and live in a multi-screen universe, simultaneously consuming content and communicating with their peers across a range of platforms.
This affects business because we're trying to connect with as large an audience as possible and then hold their attention. It's hard because their attention is split two, three and four ways.
Millennials are also startlingly media-savvy and are armed with a range of marketing avoidance devices such as My Sky that makes the task of reaching this demographic harder.
Most of all, they possess an ability to switch off what isn't relevant to them.
This isn't to argue that human nature is changing. It's not. It's just the way these human constants are expressed that has changed.
Youthful vanity, for instance, is now expressed digitally. The amount of time Millennials spend doctoring their Facebook photos is staggering.
The characteristics that differentiate Millennials, however, are going to be even more marked in the generation to come, those born after 2000. So, it's worth considering what the market will look like in 2024 and what trends are worth paying attention to.
The age of the expressionistas
The customisation of content - where the audience is creating the online videos and blogs for a global audience - is only going to accelerate and become one of the primary means of reaching consumers.
Older people may consider it over-sharing but the Expressionistas are going to be a dominant force and the smarter marketers will be using this forum to influence and inform their audience.
Real-time marketing
Business communications has to be "in the now". It's breaking news but for advertising. This is a very hard demographic to reach, so you have to be relevant and you have to be smart. Why else would they listen to you?
Oreo brilliantly exploited a 30-minute blackout during Super Bowl XLVII by seizing the cultural moment and tweeting an ad: "Power Out? No problem".
It featured a picture of a solitary Oreo and the message, "You can still dunk in the dark".
They had deployed a 15-person social media team, including copywriters, a strategist and artists, ready to react to the slightest Superbowl incident. Smart. Real-time marketing to large events will become a major means of communicating to hard-to-reach demographics.
Big data
This is the much-talked about but, to date, little acted upon issue du jour. Mainly because nobody has yet figured out how to corral all that consumer data and deploy it to good effect. By 2024 they will.
The privacy concerns will be paramount and marketers will need to obtain consent to use this information effectively. But it will be very effective.
In 10 years, the amount of data, coupled with GPS tracking on phones, will provide marketers with the ability to text consumers with information relevant to them in real time.
It could be a cyclist receiving a 30 per cent discount offer on water at the vending machine two blocks away; or the specials of the day at the local supermarket, triggered by the consumer's entry. Again, consent will be necessary.
Chief entertainment officer
Pity the poor chief marketing officer. In 2024, he or she will not only be expected to be across Big Data and analytics but also serve as chief entertainment officer.
With the post-Millennial generations, marketing will become increasingly a case of showtime (with a recommended retail price).
To hold a Millennial's attention, you need to be relevant and entertaining. It's an old maxim but one that needs updating to take account of the new technology and the concerns of a new generation. It will be harder for those marketers used to dealing with a mass market - but it will be cheaper and more effective.
Kmart unveiled a YouTube video called "Ship my Pants" to promote its new to-your-door service.
The online-only advertisement and a mondegreen relied on people mishearing the word "ship" to make people laugh. A simple thing but 20 million people watched and it cost nothing to post. Brilliant.
• Kevin Malloy is the NZ-based Global Client Director Starcom MediaVest Group