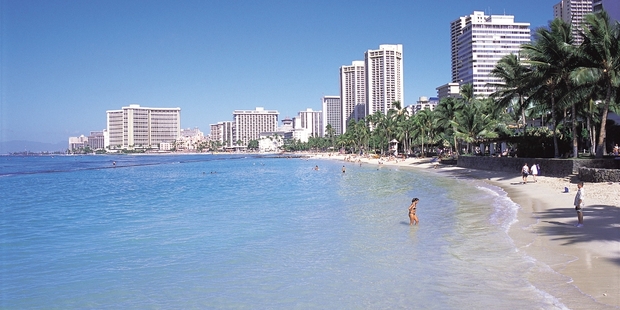 The airline battle over flying to Hawaii is stepping up with Air New Zealand adding more flights to the increasingly popular holiday destination.
The airline will operate four services a week between Auckland and Honolulu from June 16 to October 25 next year, moving to five services a week over the peak June 30 to July 27 period.
Air New Zealand says Hawaii continues to prove popular with customers.
"We are actively seeking to grow the market to the Pacific with increased capacity and lower fares, this continues to stimulate demand and grow the overall size of the market."
Hawaiian Airlines started flying three times a week to the islands just over six months ago - leading to a fare war with Air New Zealand, which also responded by putting on more flights with bigger aircraft and extra incentives for agents booking passengers on to the airline.
Hawaiian Airlines has increased services to four times a week this month and has said it will increase frequencies at times when there is sufficient demand. Since the start of the year travel to Hawaii has jumped 74.4 per cent to 29,000, and Hawaii Tourism says that could grow to 55,000 by the end of the year.
New Zealand manager for Hawaii Tourism Darragh Walshe said there had never been any doubt the market was big enough for two airlines flying the equivalent of daily services in peak periods.
"I guess it's a great example of what competition can do to reinvigorate the market," he said.
Kiwis were now travelling beyond the most populous island of Oahu to outlying islands. "With Hawaiian's entry at the beginning of the year it has really spurred that interest in Hawaii and a lot of New Zealanders have taken up the opportunity to travel up this year - but the good news is there's still potential out there and people look at [it] as a regular destination."
More tourists were coming to New Zealand via Hawaii.
Auckland Airport has said New Zealand has enjoyed the "great benefits" a United States-based carrier can bring, with Hawaiian Airlines delivering more than 80 per cent of US arrivals growth in the March to June period.
Latest figures show 111,000 visitors in the past 12 months, up 13 per cent.
Air NZ has also announced a third season of its non-stop Auckland to Bali service next year, planning to grow capacity on the route by 40 per cent. The twice-weekly 2014 seasonal service between Auckland and Denpasar will run from May 31 to October 19, rising to three flights a week from July 1 to October 12.
Overall capacity on Pacific Island routes will also increase by 7.1 per cent between April and October next year.