Generate electricity, sell electricity - it sounds simple. But the power business is anything but straightforward, Meridian Energy's Mark Binns tells Brian Fallow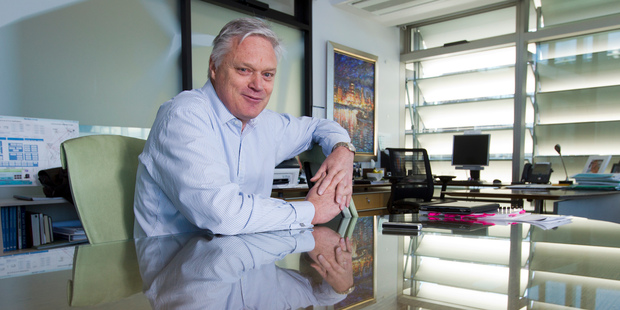 It was, he says ruefully, a baptism of fire.
No sooner had Mark Binns taken over as chief executive of Meridian Energy in January last year, than he was confronted with the lowest inflows into its hydro lakes in more than 80 years.
"And then in July we had the boys from Rio Tinto [majority owner of the Tiwai Pt aluminium smelter] turning up to say they needed to renegotiate the contract," he says. "It was quite some introduction to the company."
To say nothing - and he can't say much, because of the Securities Act - of the task of preparing the largest of the state-owned power companies for an initial public offering (IPO).
So who is this man into whose hands the jewel in the crown of the state-owned electricity sector has been entrusted?
His curriculum vitae has "leader" stamped all over it: head boy and captain of the First XV at Glendowie College. A partner in law firm Simpson Grierson at 28.
And a 22-year career at Fletcher, where he rose to head the largest division (construction) of the country's largest listed company.
"I think leaders are more born than made, to be honest," he says. "I think it's the ability to communicate a view of the world and take people with you. When you get to high positions in companies you realise you can't do everything yourself - some people might accuse me of trying to do that but you can't. So choosing good people, giving them lots of rope and trusting them is probably the key, and being able to communicate well and get them on the same wavelength."
Asked if he would have liked the top job at Fletcher, he laughs. "I would have relished the opportunity. But that's life. It just wasn't to be. I'm very pragmatic."
Another quality Binns credits himself with is the ability to see things from both sides. Maybe legal training helps.
"Often people dig themselves into a hole and only see problems from their own perspective. But if you are going to solve problems and resolve issues, which a lot of the job is about, you have to be pragmatic and see how people on the other side perceive things, and find common ground."
Binns' negotiating skills, and stamina, have been tested by the renegotiation of the Tiwai contract over 13 months and with the prospect of an IPO looming.
"It was very hard going, exceptionally intense at times. There were periods of up to six weeks at a time when it basically absorbed all my time."
The stakes have been high for both sides; the smelter takes around 40 per cent of Meridian's production, while electricity is Tiwai's largest cost.
The contract, which came into force at the start of the year, was negotiated in 2007 when global aluminium prices were high and Rio Tinto was a lot more bullish about the aluminium industry than it is now, following a plunge in the metal's price.
By last March Meridian informed the market that it considered a deal unlikely. "We're not dealing with Grandma here," Binns said at the time.
Since then Meridian has not moved its offer on electricity pricing, he insists, though it has on other terms and conditions.
The final deal, announced last month, required a $30 million koha from the taxpayer to the smelter's owners to get over the line. Apart from that, and a brief and abortive attempt by Rio in March to strike a deal, Australian-style, with the Crown, the Government has been strictly hands-off and left the negotiations to the company, he says.
The final deal is sufficiently Rio-friendly to require Meridian to write down the value of its assets by nearly half a billion dollars.
Meridian, citing commercial confidentiality, will not disclose what the pricing formula now is. But both the Government and the chairman of New Zealand Aluminium Smelters, Brian Cooper, have said it has returned the price to about where it was last year.
The smelter is widely seen as living on borrowed time, and liable to close in 2017.
But that is too swift a conclusion, Binns argues.
"I don't think it is a foregone conclusion at all. It will be determined by market conditions in 2016 but I think it is premature," he says. "I was struck by how much time and effort and resources they put into these negotiations. If it was a dead man walking I don't think they would have put that amount of time and effort into it. They might have hung around for six months and tried to screw a better price out of us to get it down the cost curve."
He got the sense that the smelter was of some importance to them.
"We knew they were losing money because it was an open book [negotiation]. They showed us their numbers. We gave them an electricity price which reduced their cost base considerably. They may or may not be making money this year. But that loss has been reduced considerably and they have got a heap of operating leverage to the upside in terms of either movement upwards in aluminium prices or downwards in the New Zealand dollar against the US dollar."
To judge where the price of aluminium on the London Metals Exchange will be in 2016, or the exchange rate, or where Tiwai will sit on the global cost curve for smelters is very difficult, Binns says.
In any case, Rio Tinto has taken down the "For Sale" sign from Tiwai and the Australian smelters it had hived off into a unit called Pacific Aluminium. It has also tipped Pacific Aluminium back into its global aluminium business, Rio Tinto Alcan, suggesting that a demerger and separate listing is off the table too.
Binns does not believe the announcement by Labour and the Greens of their plans to scrap the wholesale electricity market and replace it with a single buyer had much impact on the negotiations with the Australians. "I certainly thought about it at the time. Would it make it easier to do a deal because, hey, would they just want to sign something up in the hope that Labour and the Greens get in, and then totally renegotiate it?"
But he doubts Rio would have put a high reliance on being able to come back and get a better result under a different government.
He is, unsurprisingly, not a fan of the Labour/Greens proposed New Zealand Power model.
"Isn't it like me saying, 'Hey Fonterra, you have got that Te Rapa plant I have been driving past for 40 years. Milk products that go through that plant should be sold at a lower cost on the local market because that's a heavily depreciated plant compared with a new one in, say, Edendale'?"
Coming into the electricity industry as an outsider - "before I got this job I couldn't have told you who my own electricity supplier was" - Binns has been struck by its complexity.
"I have gone from managing a portfolio of construction and building materials businesses with a wide range of products and services to a business that is just one thing. We make electricity and we sell electricity," he says. "But the complexity is huge and the whole process of business planning is just so different. It comes from the need to manage risk. You assume you are going to get average inflows over the year. You make assumptions about how your competitors are going to react in the marketplace. You put all that into a huge model, crank the handle and out comes the result. But when you are using the mean for the hydrological inflows the chance of being bang on is next to zero. So as the year develops you have to ensure that your risk management strategies are fully implemented and working well."
Commercial risk is no stranger after years running the largest construction business in the country.
"There was an iconic figure in Fletcher Construction called Jack Smith who had a saying that in construction there is a limit on how much money you can make and no limit on how much you can lose."
Ironically, the biggest headache Binns faced at Fletcher was the contract to drill a second tailrace tunnel at Meridian's Manapouri power station, through the mountain to Doubtful Sound. Although it was only 75m from the original tunnel, the rock proved unexpectedly obdurate.
"See this grey hair? A lot of that is Manapouri. When we put the tunnel-boring machine up against the rock we just didn't get the production we expected."
Binns recounts a meeting with then Meridian chief executive Keith Turner when a Fletcher-led consortium was bidding for the contract.
"He said he wanted one of the joint-venture partners on the project to be a large New Zealand company with a lot to lose 'because if it all goes wrong I want someone close by whose feet I can hold to the fire'," he recalls. "In the middle of that job our American partner went into Chapter 11 [bankruptcy protection] and our Austrian partner basically said it was prepared to pack up and go home. It was Fletcher which held that project together and it left us with a $53 million loss. So it was a very good contracting philosophy on Dr Turner's part."
It was, in short, a project "where engineers got their rocks off but accountants cried".
Since taking over at Meridian, Binns has shelved a string of generation projects, for want of demand.
"People ask me if I have a natural inclination to build. You walk past Te Papa or Sky City and you know the role you played in that project and it was something to be proud of," he says. "So I like building things. But I like making money even more. When I arrived here our development pipeline was far too big for what the size of the market was going to be over the next little while."
Aucklander at home in Wellington
Mark Binns was born 57 years ago in Christchurch, but grew up in Auckland.
He went to Glendowie College and Auckland University.
After practising law at Simpson Grierson, he joined Fletcher Challenge in 1989 as general manager of Challenge Properties, responsible for a large commercial property portfolio.
By 2001 he was chief executive of Fletcher Building's worldwide construction operations.
After 22 years at Fletcher, he left to become Meridian's chief executive in January last year.
He is married to Louise, whom he met at law school in 1976. They have three grown children: Matthew, Joshua and Hannah.
They have an 1880s home in Parnell, a bach north of Auckland and an apartment in Oriental Parade in Wellington - a 20-minute walk around the waterfront from Meridian's head office.
"Aucklanders tend to diss Wellington," he says, "but Louise and I really enjoy living here.
"And every time I go back to Auckland, even though it has only been 18 months, I always underestimate how long it is going to take to get anywhere - despite all the roads Fletchers has built."
What does he do to unwind?
"I try to run. My wife is a very keen runner who has done 16 marathons.
"Occasionally I have let her talk me into joining her.
"I have done three, and that will be it. They have been very painful experiences," he says.
"I play a very bad game of golf, but I'm keen, and I'm a keen fisherman - but very average."