The San Francisco-based Kiwi Landing Pad has become an invaluable staging point for big-thinking Kiwi tech start-ups looking to crack the US market. Jamie Morton caught up with a few of them.
The pelican brief
It might be a run-in with a pelican that Chris Smith has to thank for his booming app company.
Thirteen months ago, Smith and his wife found themselves awe-struck by one of the creatures during a visit to Wellington Zoo.
A sign at its enclosure yielded a few basic facts - one being the bird could hold 13 litres of water in its beak - but the couple wanted to know more.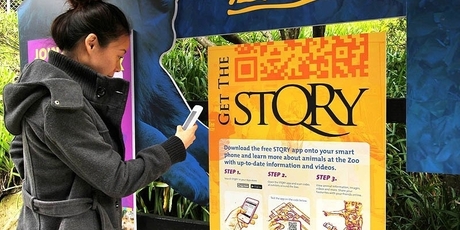 Zoo staff spent 15 minutes sharing stories with them, remarking how they wished there was a better way to get this information to their visitors.
Smith spent a few nights Googling, but couldn't find anything that would do the trick. He saw an opportunity and in just over a year, technology his company has developed to help organisations share information has been taken up more than 100 clients.
They include Kelly Tarlton's Sea Life Aquarium, the Christchurch Botanic Gardens, Auckland Zoo, and, of course, Wellington Zoo.
"We pitched a one-page idea to the zoo, and signed a four-year contract after two weeks of just coming up with the idea."
The company's name, StQRy, takes it's name from the QR codes now found around these sites, which allow visitors to scan with their smartphones and get multi-media guides.
"If you walk around any of the venues you'll see StQRy codes and it says, 'get the story'. If you scan it with the StQRy app, that story will pop up to full multi-media."
The company's staff has grown to nine and this year it started a new production team to write stories.
Many regions around New Zealand are using the technology, which is quickly branching out in the US.
San Francisco and Seattle have signed on with StQRy to promote their public art, and major companies including Walt Disney and the Getty Centre in Los Angeles have also bought in.
And those walking around the New Zealand base at the America's Cup can use it to find out more about the Kiwi wine they are drinking, or the lamb they are eating.
Smith said his technology also came in handy for groups or families that wanted to get through a museum quickly and didn't have time to take audio tours.
As for the pelican, he's pleased to say that a StQRy card next to the enclosure now offers curious visitors many more fun facts.
Booktrack: A reading revolution
When explaining his company's point of difference, Paul Cameron likes to jump back to movie theatres in 1928.
The introduction of "talkies" - motion pictures accompanied by sound - would revolutionise the movie business.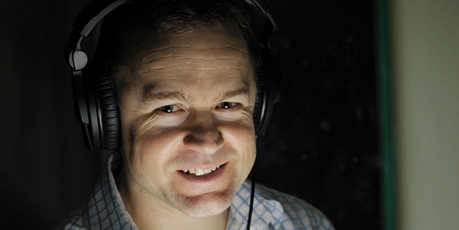 The soundtrack software developed by Cameron's company Booktrack could do the same for e-books, he said.
The company offers synchronised soundtracks for e-books, including sound effects and music, to provide users a movie-like experience while reading.
"When you watch a film and you turn the sound down, all the emotion dies with it - so we are just bringing that experience to reading."
Cameron described the soundtrack software as dynamic: "It'll adapt to what you are reading, when you are reading."
When a character might open a door, the reader will hear a creak. Orchestral music will sound at a sad scene.
"We've had unbelievable feedback from all around the world. We've been a top 10 book app in 20 countries ... and just generally the feedback from our readers is we need more books, please."
The company picked up the Innovative Software Product prize at this year's NZ High Tech Awards and has raised millions of dollars from investors, among them Facebook billionaire and Paypal co-founder Peter Thiel.
It has also found support from Warehouse founder Sir Stephen Tindall, the New Zealand Venture Investment Fund and Sir Peter Jackson's Park Road Post Productions, which provided the sound for The Lord of The Rings and The Hobbit.
Booktrack bases its research and development out of Auckland and recently moved its US office from New York to San Francisco, positioning itself closer to the tech industry.
Its first free title, The Adventures of Sherlock Holmes: The Adventure of the Speckled Band, was downloaded more than 100,000 times in its opening three months.
The technology sought to restore interest in books at a time that it was lacking, especially in the US.
"At the moment we are very book-centric, but going forward, it'll be more about magazine, bloggers, any sort of digital text. So potentially, through the browser, we can add a synchronised soundtrack to whatever you are reading," Cameron said.
Mako Networks: Blocking the card sharks
Each time Mako Networks' communications manager Kevin Ptak emails out a news update to his colleagues, he throws in the latest tale of credit card fraud.
There was the series of attacks in Brisbane. And there were the five hotels in Hawaii where fraudsters managed to mine months' worth of customers' credit card details.
"It's on the rise around the world," Ptak said.
For Mako Networks, the age of data crime and data security has presented a business opportunity.
The New Zealand-based network management company specialises in security for small site businesses and organisations, such as petrol stations and fast food restaurant chains, ensuring their data and records are secure.
It began in 2000 as YellowTuna Networks, an enterprise created by former Xtra employees Chris Massam and Simon Gamble to provide managed firewalls to small businesses.
Rebranding as Mako Networks a few years later, its technology was taken up by Telecom, the Ministry of Health and other clients.
In the mid-2000s, new rules were brought in to protect credit card users and combat fraud under the Payment Card Industry Data Security Standard.
Large companies with big budgets and staffing expertise found it easy to comply with new rules, Ptak said.
"But the small businesses - the cafes, the florist shops, the corner stores - they're all having a really hard time and are struggling with this."
The tighter standards had pushed the fraudsters targeting corporations "further down the food chain" to these small businesses, he said. "And that's where our system comes in."
The grey box-like appliance arrives pre-configured using cloud-based technology, so businesses can swap it with the modem or router they are using to connect with the internet, shielding anything coming in and out.
Ptak said while there were no good studies into how many businesses in the US remained non-compliant, there were seven million merchants that accepted credit cards. "There's a large pie there."
Mako's research and development is based in Albany, but it's estimated around three quarters of its new business will be in North America over the next three years.
The company had a turnover last year of $10 million and now has multiple offices in the US.
It was recognised with the Security Innovation of the Year award at the 2012 UK Digital Entrepreneur Awards - and by the Ministry of Business, Innovation and Employment with a multi-million dollar funding commitment to help boost research and development.
"We were a recipient of a $4.2 million grant ... and we are using that money to hire talent just as fast as we can find it to support our growth in the US."
A Virtual Eye on America
Dunedin-based Virtual Eye might be best known for transforming New Zealand sports coverage with 3D animated graphics, from the America's Cup Challenge to motor racing, golf and cricket.
But as the company has demonstrated in San Francisco, there's more to it than just fancy things on telly.
It's been using augmented reality - computed-generated technology that adds a digital dimension to real-world environments - to showcase the best of New Zealand.
Seizing on the America's Cup, the company is deploying augmented reality displays, viewable by smartphone, to promote Kiwi wine, sailing and culture.
A display was recently set up at San Francisco's artificial Treasure Island, to tie in with a Maori hangi and music festival staged there.
At the cup base, the technology allowed Emirates Team New Zealand fans to take a virtual tour of the team's boat, getting up close with all of its components and comparing its size to that of an elephant.
"Lots of people who are promoting New Zealand are really interested in it," said graphic operator Brydie Meinung.
The company - part of Animation Research, a venture co-founded by Ian Taylor in 1989 - is looking to take its technology to nearby Napa Valley wineries.
Meinung said smaller wineries seeking a point of difference had shown an interest - and not just in using it as a display for visitors.
It could also come in handy as a training tool for waiters and bartenders, she said.
While the augmented reality technology was not Virtual Eye's, the company had developed it in such a way not accessible elsewhere. "We've been getting a lot of recognition," she said.
Jamie Morton travelled to San Francisco as a guest of Air New Zealand.