Marketing expert says a number of factors are working against Asiana after the San Francisco crash.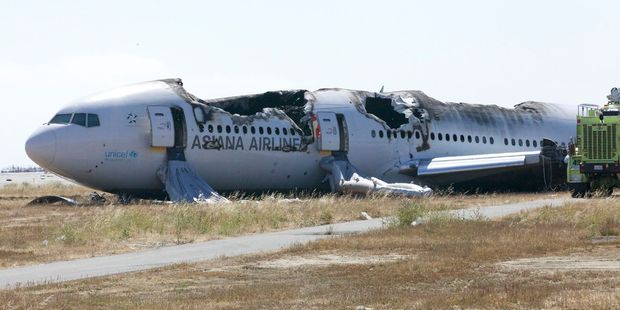 An expert in product harm says the public feels the need to quickly apportion responsibility for plane accidents and in the Asiana crash at San Francisco the airline is losing the early rounds of the blame game.
Details are also emerging of likely insurance battles following Sunday's crash.
Victoria University associate professor in marketing Dan Laufer said there were significant stakes involved.
"It takes months or years for the results of an investigation to come out. What you're seeing now is information coming out from very preliminary investigation and when pilot error comes out and the public sees that the reaction is negative towards the airline," he said.
'What they have to do is if there is preliminary evidence of something relating to the plane, for instance, it's important to get that information out there. A lot of times companies think they shouldn't say anything until all the information from the investigation" [is released]
Laufer, who has been researching the psychology of blame and the reaction of consumers for more than 10 years, said the stronger brand awareness of the plane maker, Boeing, was also working against the airline.
"Brand familiarity plays a role. More people are familiar with Boeing than they are with Asiana so that hurts them because people infer from that that it's more likely to be related to them."
This could cause long-term harm to the South Korean airline, he said.
He said the public applies its own personal biases to decide who is at fault during a crisis. "Unfortunately for companies, consumers are not jurors who are instructed to only consider the facts."
The crash was a classic example of where there is enormous pressure to assess blame which related to the severity of the outcome and personal vulnerability. "Most people fly so people feel vulnerable and the threat level is very high - there's psychological discomfort."
In the wake of Sunday's crash the airline's share price tumbled 6.2 per cent, its worst fall since December 2011, and by market close settled down at 5.8 per cent.
Boeing's share price emerged unscathed, as the focus has been on possible pilot error.
Boeing stock, which is the second best performing on the Dow Jones - up 38 per cent - maintained its upward momentum after the crash.
Chris De Lavigne, an aerospace analyst with consulting firm Frost & Sullivan, told the BBC the crash would affect the airline.
"We are likely to see some people cancel their bookings and think whether it is safe to fly Asiana, until there is sufficient reassurance from the airline that it has found the root cause and sorted it out," Lavigne said.
Bloomberg reports Asiana could avoid hundreds of millions of dollars in verdicts and settlements by employing a tactic under international law to bar Chinese and South Korean passengers from suing in victim-friendly US courts over the crash of Flight 214.
Asiana may argue that most if not all of the Chinese and South Korean passengers' ultimate destination was their home countries, since they probably held round-trip tickets, and that's where they should file their claims. Win or lose on where claims are heard, it will probably be Asiana's insurers that eventually pay the bill for claims, air-crash litigators said.
The flight from Seoul had 307 people on board, including 16 crew members. Some 141 passengers were from China, 77 from South Korea and 61 from the US. Lawsuits over international airline accidents are governed by the Montreal Convention, a treaty signed by all three countries that states the place where cases may be handled is based on factors including a passenger's final destination, said airline litigation attorney Mitch Baumeister.
One way in which lawyers representing non-US passengers may seek to get around the airline's potential defence to US suits is to argue that San Francisco was their clients' final destination because the return tickets are separate transactions, said Robert Clifford, a trial lawyer in Chicago.
Safer features boost survival
Passengers in plane crashes today, such as the one in San Francisco involving Asiana Airlines Flight 214, are more likely to survive than in past disasters.
The nature of crashes has also changed. Improvements in cockpit technology mean that planes rarely crash into mountains or each other.
Several advances in aviation technology have made these feats of survival possible. They include:
*Stronger seats: Seats and the bolts holding them into the floor are designed to withstand forces up to 16 times that of gravity. That prevents rows of seats from pancaking together during a crash, crushing passengers.
*Fire retardant materials: Carpeting and seat cushions are now made of materials that burn slower, spread flames slower and don't give off noxious and dangerous gases.
*Improved exits: Doors are much simpler to open and easily swing out of the way, allowing passengers to quickly exit. Rows of floor lights change from white to red when an exit is reached.
*Better training: Flight attendants at many airlines now train in full-size models of planes that fill with smoke during crash simulations.
*Stronger planes: Aircraft engineers have looked at structural weaknesses from past crashes and reinforced those sections of the plane.
Today, there are about two deaths worldwide for every 100 million passengers on commercial flights. A decade ago, passengers were 10 times as likely to die when flying on an American plane. The risk of death was even greater during the start of the jet age, with 1696 people dying, 133 out of every 100 million passengers from 1962 to 1971. The figures exclude acts of terrorism.
- AP