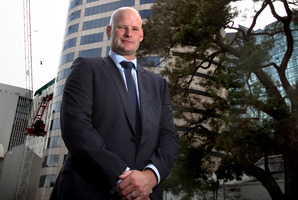 Precinct Properties New Zealand may sell buildings to fund its $350 million 30-level Downtown Shopping Centre redevelopment.
Scott Pritchard, the company's chief executive, said that was how money could be raised to pay for the huge project above the Central Rail Link and on more than half a hectare of waterfront land.
"We will look to recycle capital out of the existing portfolio. We have 16 properties between Auckland and Wellington and that would be our preference," he said.
Precinct issued an NZX notice yesterday, saying an agreement was signed with Auckland Council on construction timing.
"We will spend $300 million to $350 million and it will be in the 30-level range," he said of the block where carparks would be within the tower, because trains will run below.
The actual height and size of the new building would be determined by planning regulations, a survey on demand now under way and negotiations with retail and commercial tenants, he said.
The development is on a 6,500sq m site between Albert St, Quay St and Queen Elizabeth II Square.
Precinct, with a market capitalisation of $1 billion, owns the 30-level PwC building opposite the Downtown Westfield, HSBC at 1 Queen St and the ANZ Centre a block away.
Precinct's management is jointly owned by Australia's AMP Capital and Middle Eastern interests in Abu Dhabi, which also own 19 per cent of the company's shares.
"We welcome the chance to work together with the council as obviously it would make a lot of sense to co-ordinate timing so they can advance works for the CRL tunnel at this site at the same time as we develop the Downtown Centre," Pritchard said.
Councillor Cameron Brewer welcomed yesterday's deal.
"It's great that the council will be working closely and collaboratively with Precinct. It's a win for them as their development will have great access to a key piece of public transport infrastructure and it's great for ratepayers as they don't have to fund purchasing the massive downtown centre site," he said.
Alan McMahon, Colliers International's consulting and research director, said a study last year showed the "outperformance" of buildings near major transport hubs such as Britomart.
In 2008, the former Downtown owner, Westfield, was expected to build a block about the same height as the 39,450sq m Vero Centre but with about 50,000sq m of premium-grade office accommodation and around 7,300sq m of retail space.
Westfield sold the property to Precinct last year.
Shares in Precinct were yesterday trading around $1.20.

Precinct Properties
• NZFormer AMP NZ Office Trust.
• Landlord to 300 tenants employing 17,000 people.
• Owns A-grade Auckland, Wellington buildings.
• Portfolio of 16 buildings valued at $1.4 billion.
• Spent $76 million refurbishing Auckland's ANZ Centre.
• Management owned by Abu Dhabi and Australian interests.

See also: Scott Pritchard talks about the $76 million ANZ Centre job here.