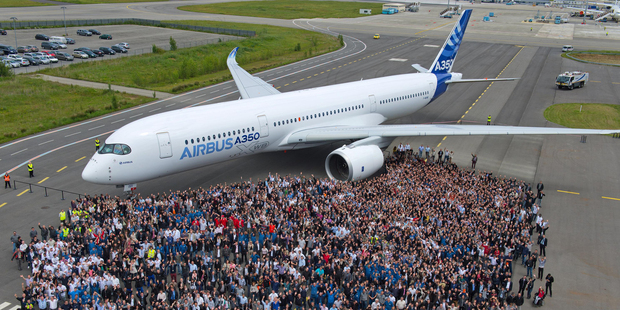 Airbus says its new long-haul plane the A350, will make its maiden flight late on Friday (NZT) after having successfully passed a series of ground tests.
The company said the flight would take place at 0800 GMT at the Toulouse-Blagnac airport in southwestern France, "weather conditions permitting".
Flight test teams were, however, carrying out a final round of controls before giving their final green light.
A first flight would come days before the Paris Air Show, where Airbus and Boeing compete for the attention of the public and more importantly, plane buyers. Airbus has spent NZ$16 billion developing the A350, the company's most advanced airliner yet, with composite materials and swept wings to rival Boeing's wide-body jets.
Smaller versions of the three model of the Airbus XWB (extra wide body) plane will compete directly against Boeing's 787 Dreamliner which was plagued by years of production delays and more recently battery problems after finally delivering the aircraft to its customers.
The larger version of the new Airbus will compete with Boeing's 777.
Airbus says its plane will use 25 per cent less fuel and provide an equivalent reduction in CO2 emissions.
It is scheduled for entry into service in second half of next year and has already won 613 firm orders from 33 customers worldwide.
Bloomberg reports the plane will initially fly to about 3000m travelling at a speed of about 370kph.
Once the crew is satisfied with the performance, test pilots will retract the landing gear, and subsequently increase the speed to test the response of the aircraft. All six crew will carry parachutes in the event of emergency, with rungs to move from the cockpit toward an exit hatch in the cargo area.