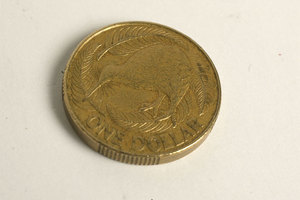 The New Zealand dollar gained in volatile trading as investors eye US job figures today for signs of a recovery in the world's largest economy.
The kiwi yesterday dropped to as low as 78.99 US cents, and early this morning traded as high as 81.01 cents. The local currency recently bought 80.33 US cents from 79.09 cents at 5pm in Wellington yesterday.
Investors are eyeing the US payrolls report for signs employment, a key driver of economic recovery, is picking up. Federal Reserve Chairman Ben Bernanke has said sustained improvement in employment was needed before the central bank would start unwinding its US$85 billion a month bond buying programme, which has kept the US dollar low.
"The kiwi is being shaken up within a broad range," said Alex Hill, head of dealing at HiFX. "It's a very uncertain market going into tonight's non-farm payroll numbers. The markets are very unsure. Volatility is certainly high."
Alex Hill, head of dealing at HiFX
The New Zealand dollar will probably trade between 79.70 US cents and 80.50 cents today, Hill said.
It is likely to take its lead from the payrolls data when local trading resumes on Monday, he said.
Employers probably added 170,000 jobs to their payrolls in May, according to a Reuters survey of economists, while the median forecast in a Bloomberg survey calls for an increase of 165,000 jobs. The unemployment rate is expected to stay at 7.5 per cent. The payrolls report is due out 12:30am on Saturday in New Zealand.
With the next two-day Federal Open Market Committee meeting starting on June 18, the payrolls data is expected to provide direction for the committee's attitude toward tapering the bond-buying programme, known as quantitative easing.
The New Zealand dollar advanced to 60.65 euro cents from 60.31 cents after European Central Bank policy makers kept their key rate at a record low, and downgraded their forecast for growth for this year, while upgrading expectations for 2014. Annual real GDP is expected to decline by 0.6 per cent in 2013, followed by growth of 1.1 per cent in 2014.
The kiwi increased to 51.48 British pence from 51.33 pence after Bank of England policymakers maintained stimulus for the economy. The bank's Monetary Policy Committee held its target for bond purchases at 375 billion pounds.
The local currency dropped to 83.56 Australian cents from 83.71 yesterday and slid to 77.99 yen from 78.40 yen. The trade-weighted index advanced to 74.77 from 74.41.