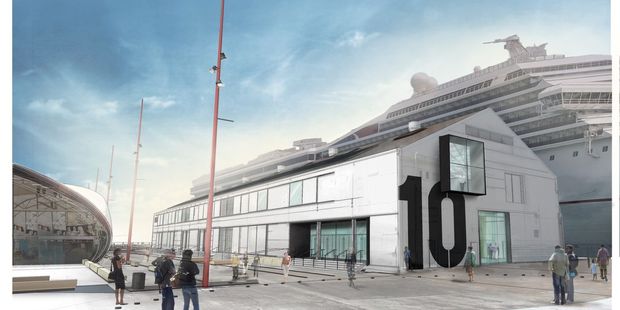 Auckland's refurbished cruise ship terminal will be lit up with New Zealand's biggest solar installation.
The $200,000 system has been installed on the roof of Shed 10, the century-old historic cargo shed on Queen's Wharf which is being refurbished for use as an events space and as Auckland's primary cruise ship terminal.
Council body Waterfront Auckland has funded the solar installation which consists of 240 photovoltaic panels which cover an area of 400sqm.
Supplier Vector said it is the largest grid-connected roof-mounted multi-crystalline PV system in the country
The 60kW amount of energy generated is estimated to be 84,000kWh per year, equivalent to the average annual energy use of 10 households.
The energy generated will be used to provide lighting in the building and any excess will be used elsewhere on Waterfront Auckland sites or will go back into the national grid.
Mayor Len Brown said Aucklanders spend $5 billion each year on electricity and this was likely to double by 2031 so it was essential to start looking to sustainable energy resource solution.
"Renewable energy will increasingly have a part to play this. With Shed 10, as a high profile public building in the heart of the city, we have an opportunity to showcase the best of what solar power has to offer."
Vector's chief executive Simon MacKenzie said his company had been working on renewable energy projects for the past decade.
"These kinds of renewable energy initiatives support the council's vision for Auckland to be the world's most liveable city. Of course, the right infrastructure elements have to be in place to support and enhance these solutions."
The Shed 10 project was hit by the Mainzeal collapse but another firm, MacRennie Commercial Construction, took over the job. It is expected to be finished in June, a delay of up to two months following the Mainzeal failure.
Devonport-Takapuna Local Board chairman Chris Darby said the solar panels on Shed 10 were likely to be lauded but they were a "mere pinprick of an idea'' providing enough energy to power just 10 households and confirming Aucklanders as late adopters rather than innovative thinkers.
"The glaring omission in the reinvigoration plans for Auckland's waterfront has been the lack of any consideration of global new ideas.
"Creating a new urban power plant generating renewable energy for the city-centre which also demonstrates our role in the international response to the climate change
threat could have been such an idea,'' Mr Darby said on Facebook.
"An inner-city urban power plant integrated into the development fabric beckons for Wynyard Quarter,'' he said.