New business innovation institute will be named after the late Sir Paul Callaghan.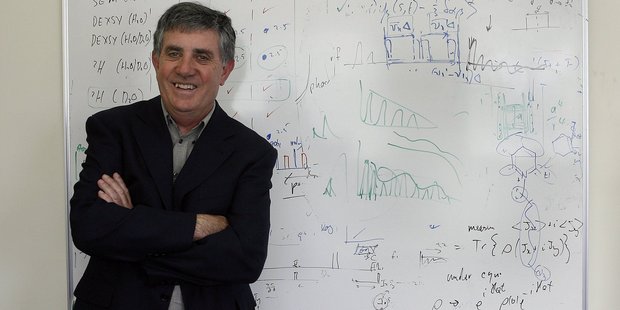 One of the Government's key initiatives for driving economic growth has been formally named Callaghan Innovation - after the late New Zealand physicist Sir Paul Callaghan.
Science and Innovation Minister Steven Joyce said the project previously known as the Advanced Technology Institute (ATI) would be named after Callaghan "in recognition of his passion for commercialising scientific research".
"Sir Paul was one of New Zealand's greatest scientists," Joyce said.
"He believed that science was not only about great ideas but about getting value from those ideas through innovation and commercialisation.
"His views reflect the ambition of the ATI and we are grateful to the Callaghan family for allowing us to name the new institute in his honour." Callaghan, regarded as a world leader in his field, died in March this year after a long struggle with bowel cancer.
The project will be based in Auckland, Lower Hutt and Canterbury and aims to bring science and business closer together.
"Callaghan Innovation will be a one-stop shop for business innovation support whether it be in science, engineering, design or technology. It will be a high-tech HQ for New Zealand businesses," Joyce said.
It has yet to be announced where Callaghan Innovation will have its headquarters and the Herald understands there is concern among some in Auckland that the project will be hamstrung by bureaucracy if run out of Wellington.
Joyce said yesterday that the initiative, which was flagged before the last election, was preparing for a February 1 launch.
But some business commentators said this week that details about how the initiative would work were scant.
Technology Innovation Network (Tin) managing director Greg Shanahan said companies wanted clarity on how it would operate.
"The feedback that I'm getting from companies that I'm exposed to [within Tin] is that information is slow in coming out," Shanahan said.
Business New Zealand's manager of manufacturers and exporters, Catherine Beard, said it was fair to say there was "a vacuum of information".
"I think understandably there is a vacuum because when something's not set up it's not entirely clear exactly how it's going to operate," she said.
Beard said she understood why high-tech businesses felt there had been a hiatus.
"There's probably a desire to just see it get up and running and make a difference. I think we'd support that sentiment," she said.
Chief executive of business incubator The Icehouse Andy Hamilton said it would probably appear to some ATI was not moving quickly.
"Probably if [the Government] went out publicly and said all the things they were doing people would be critical. They need to get a few ducks in a row and get some people in place. While it might be frustrating to some, these things are normal," Hamilton said.
A submission clarifying the role of the ATI, its vision and the results it hopes to achieve is due to go to the Cabinet in January.
Callaghan Innovation
* The initiative will connect high-tech business with the skills and facilities at the country's Crown Research Institutes (CRIs), universities and research centres.
* It is set to absorb and extend the functions of an existing CRI, Industrial Research Ltd, that the Government believed was not designed to meet the vast business needs of a diverse manufacturing and services sector.
* These parts of the economy account for almost 30 per cent ($37.5 billion) of the country's gross domestic product but have the potential to be worth more.
* The Government has flagged $166 million of taxpayer money for Callaghan Innovation over the next four years.