Auckland Airport says extra services could more than double Chinese inbound tourism growth and revenue.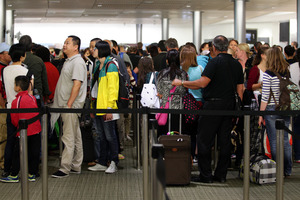 Auckland International Airport chiefs hope the fast growing Chinese tourist market will be boosted by Air New Zealand's plans to expand links into China and signs China Southern Airlines may step up services to this country.
Air New Zealand will move to daily flights to Shanghai and its new deal with Cathay Pacific means better connections into mainland China through Cathay's Dragonair subsidiary.
Meanwhile, executives from China Southern are due to visit Auckland next month, just over a year since starting direct daily services between Auckland and Guangzhou.
Figures released yesterday show China has surged ahead of Britain to become New Zealand's second-largest tourist market. The Ministry of Business, Innovation and Employment (MBIE) quarterly International Visitor Survey, showed spending by Chinese visitors has increased by 37 per cent in the past year. A total spend of $555 million in the year to September 2012 put China ahead of British spending ($545 million) for the first time.
Incoming Auckland Airport chief executive Adrian Littlewood said New Zealand was part of China Southern's expansion plans for Australasia.
"I think they are confident they have new routes all around their network and new planes," Littlewood said. "They have confidence in growth and they have confidence out of New Zealand."
China Southern's New Zealand general manager Henry Dai said yesterday the past year had shown demand for greater business and leisure travel between New Zealand and China.
"We look forward to working with New Zealand authorities and the industry to develop our service further," he said.
At the launch of the daily service a year ago, the airline also announced its intention to explore hubbing options to South America. This, along with a possible twice daily service into Auckland, could more than double New Zealand's inbound tourism growth and revenue from China, Auckland Airport said.
China Southern is Asia's largest airline in fleet size and passengers carried.
It flies to 121 destinations and has 136 aircraft on order - of which 10 are Boeing 787-800 Dreamliners - and this created big potential for future growth.
Littlewood yesterday highlighted the benefits of the direct air links to southern China which had led to 40 per cent year-on-year growth of Chinese visitors through the airport.
Littlewood, who takes the top job next week, said the number of visitors from China was now second to Australia as the highest inbound market.
Littlewood, at present general manager of retail and commercial, takes the top job on Monday, and said he was optimistic about Air New Zealand's plans.
"It gives them better connections into China which is good for them but also good for us. It increases the penetration into the Chinese market."
The airport's international market development manager, Mark Frood, said potential new services from Auckland to South America offered potential for growth.