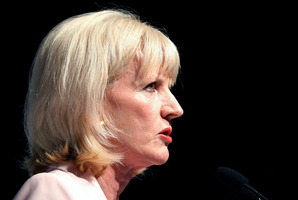 Auckland Airport says it is on track to improve on the past years' after-tax profit of $142 million and is confident its 100 per cent dividend policy is sustainable.
Chairwoman Joan Withers told shareholders at the company's annual meeting yesterday the board remains optimistic about the current financial year and as previously indicated expects net profit after tax - excluding any fair value changes and other one-off items - to be between $143 million and $150 million.
In August the board reviewed its dividend policy in light of recent and projected operating performance and cash flow and decided to increase dividends from 90 per cent of net profit after tax to 100 per cent.
Such a policy was also in line with industry best market practice.
Asked about the policy in light of possible future investment, Withers said executives had assured the board there would be room to fund growth with the new dividend policy.
"We would be derelict in our duty if we weren't returning surplus capital back to shareholders."
Last year the airport paid a dividend of 10.5c, 20 per cent up on the previous year.
Last year's profit was fuelled by growth in passenger numbers across its airports.
At its biggest asset, Auckland Airport, total international passenger movements, including transits, were up 5.1 per cent and total domestic passenger movements were up 3.3 per cent.
Passenger numbers were also up at Queenstown, Cairns and Mackay airports, in which Auckland Airport has stakes of just under 25 per cent.
"Global markets are now increasingly Asia-centric and likely to become more so. A global race is now on to capture value from the massive rise in the Asian middle-class that is projected," Withers said.
Auckland Airport shares closed down 1c at $2.68.
Set for departure
Auckland Airport chairwoman Joan Withers will step down late next year after 16 years on the board and three years at the helm.
Withers, who chairs Mighty River Power and is deputy chairwoman of TVNZ, said she had always intended to step down from the airport's top job after three years.
She said she would "at some stage" look at taking on other board roles.
The airport is still looking for a new chief executive and she said the board "was not far off"an appointment to replace Simon Moutter.