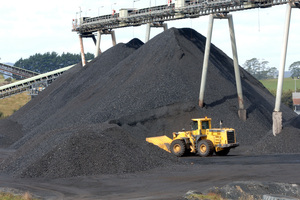 Work dried up overnight for Greymouth bus owner Janine Howie when Solid Energy dropped the axe on the Spring Creek Mine.
In April, when she bought the bus side of Cliff Sandrey Contracting and re-launched it as West Coast Coaches, a fleet of buses was transporting as many as 35 workers to the mine four times a day, seven days a week. Today, those buses are all parked up with no work.
The change immediately cost three drivers their jobs and Ms Howie says she might have to sell some of her fleet to keep the business going.
West Coast Coaches is just one of the downstream casualties of the mine closure that has put 230 mine staff and 130 contracting staff at the mine out of work.
Even with the bleak outlook Ms Howie is "trying to stay positive''.
"It was terrible having to put staff off and I feel for the guys who are now out of work, but I promised them I would give them a call if work came our way in the future,'' she said.
For now, she hopes the business still has a foot in the door at Spring Creek; if and when work ever resumes underground. However, nothing is guaranteed.
"From now on all Solid Energy work is being put out to tender.
"I'm just hanging in here. It's not just me who has been affected, it is the whole of the West Coast. However, I have got to stay positive; if you give in and feel you have lost, then you lose.''
For now, Ms Howie's bread and butter is conveying miners to Roa, behind Blackball, but if the pay cheque from Solid Energy is not forthcoming it will be a totally different story.
"I'll be on tenterhooks until then.''