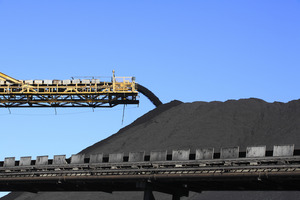 Two days after it lowered the boom on Huntly and Greymouth, Solid Energy might have been expected to report grim results for the financial year just ended.
Instead it reported selling more coal than the year before, for higher prices than the year before. It would have had a bigger bottom-line profit than the year before, too, had it not decided to write down large swathes of its business.
The state-owned coal miner yesterday reported an 18 per cent lift in its revenue to just under $1 billion in the year to June, underpinned by a 20 per cent rise in export volumes and a 6 per cent rise in domestic sales.
Export prices were volatile but were up 9 per cent in US dollar terms for the full year and, even with an adverse exchange rate, up 6 per cent in New Zealand dollar terms.
But that was then and this is now, was the message from outgoing chairman John Palmer and chief executive Don Elder yesterday.
Evidently spooked by a steep drop in world prices for coking coal over the past two months, the company is taking a dark view of its near-term prospects, writing down the book value of its business by $140 million and cutting capital expenditure by $100 million or two-thirds.
Underlying earnings (that is, excluding the writedowns) were $100 million, up 16 per cent on the year before, but the writedowns dragged Solid Energy's net profit after tax down to a $40 million loss.
Over the past two months spot prices for coking coal have fallen off a cliff, dropping 25 per cent.
The plunge in prices, the company says, has forced it to focus on strategic direction, on where its long-term prospects lie, and take some hard decisions.
"I want to say, certainly to the people of West Coast, that nobody except yourselves feels the pain of what you are going through more than the people who sit around the board table and the management team of Solid Energy," Palmer said.
The decisions had nothing to do with the Government's desire, now on hold, to partially privatise the company, he said.
Elder said export prices would need to be 50 per cent higher for the Spring Creek underground mine on the West Coast to break even.
So that mine was under review. That did not mean it was under review for closure, he said. The company would want to keep its options open.
Palmer said the company had been subsidising the development of Spring Creek from its other coal trading revenues.
Meanwhile, the current contract to supply Huntly coal to New Zealand Steel's Glenbrook mill only runs until the middle of next year. Solid Energy faces competition from Indonesian imports for that business, its largest domestic customer.
"In the Huntly East mine the price we can get [from NZ Steel] does not support the cost of mining, which after many decades is a long way out from the portals, relatively deep underground, in difficult geological conditions, with the need for substantial investment in ventilation," Elder said.
"We have plenty of coal developed that will allow us to meet the remainder of the NZ Steel contract until June 30 next year and will almost certainly allow us to provide more coal beyond that without that capital commitment.
"But at some point we will have to make further decisions and they will depend on the market for that coal."
By contrast, the company is bullish about the prospects for underground coal gasification of Waikato coal seams too deep to be mined conventionally.
Elder said a number of prominent international companies had shown great interest in Solid Energy's capabilities in that technology and had approached it about working with them on prospects internationally and in some cases on developing it further in New Zealand.
Those discussions were at early stages but very promising, he said.
The company sees no chance of the kind of swift recovery in coal prices which occurred after the 2008/09 global recession.
The economic stimulus undertaken by major economies then had not been repeated this time, he said.
In addition, US coal producers had lost domestic market share to shale gas and were selling into international markets at prices that amounted to dumping.
And, unlike during the global financial crisis, the drop in world coal prices had not been offset by a drop in the exchange rate.
"As a result our prices in New Zealand dollars today for spot cargoes are 20 per cent below the deepest prices in the GFC in New Zealand dollars and there is a risk they will continue for some time. This is much worse."