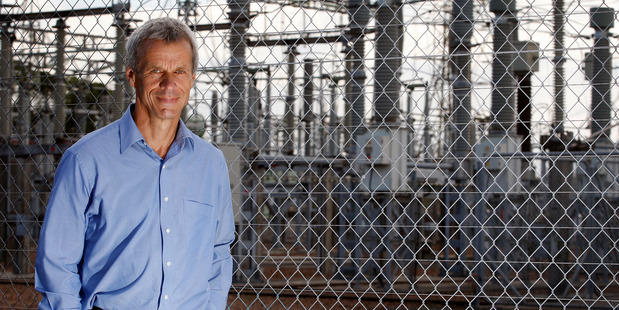 Chief Executive Patrick Strange says the company had no choice but to fix New Zealand's ageing power grid
Transpower is spending up to $5 billion over seven years to fortify the national grid.
Although it is one of the biggest spends by a single organisation on a linked series of projects, the state-owned enterprise is adamant it is counting every cent.
Chief executive Patrick Strange says the $5 billion figure is not one he likes to see bandied about.
Take a look at Transpower's new projects nationwide here.
"We don't like to emphasise that. We spend most of our lives trying to minimise Capex," he says. "People say we have to spend on infrastructure - we're not scared to, but just because it's infrastructure it's not a licence to go out with an open chequebook."
The impact of the multibillion-dollar series of projects is starting to be felt harder in power bills. Retailers and lines companies are pointing out more frequently the impact of Transpower levies on domestic and commercial consumers' bills.
Strange says it's running at around 8 per cent at the moment, down from 16 per cent when Transpower was formed in 1994. Though the levy impact will reach close to 10 per cent in the next few years, it will fall after the spending surge washes through. "It's going up less than inflation. The problem is that it all comes in one jump."
There was no choice but to fix up the ageing grid. The failure in 2007 of a 40-year old part of the interisland link has led to costly constraints moving power back and forth across Cook Strait and resulted in a $672 million job to install new converter equipment, known as Pole 3, at Benmore and the Haywards.
The need to move more power from stations around and south of Taupo north resulted in the $824 million project to build 426 massive pylons capable of carrying 400kV through the Waikato to Auckland.
But it was two separate incidents in Auckland, which cut power to nearly one million people in Auckland and Northland, that left no doubt another layer of electricity security was needed through the city.
Murphy's Law struck in 2006 when two corroded D shackles worth a few dollars each brought earthwires down on to transmission lines at the Otahuhu substation during high winds, and three years later a forklift driver lifted a shipping container into high voltage lines at Onehunga.
Power was cut for hours to Northland, the Marsden Point refinery was forced to shut down and thousands of other businesses suffered.
The North Auckland and Northland (NAaN) upgrade had been discussed since around 2002, but it fast became urgent to address North Auckland's reliance on the single transmission line between Otahuhu and Henderson.
The project involves 37km of 220kV underground cable being installed between Albany and Pakuranga, running down the Northern Busway and over the harbour bridge and through Vector's tunnel to Penrose and connecting through new substations being built with Vector at Hobson St and Wairau Rd.
The harbour bridge has had to be reinforced to carry three cables and NAaN is due for completion next spring.
Strange says it was hoped the project would finish earlier.
"We've had a few complications - all these big projects do. It's running a few months behind but it's not a huge concern to me because this is a 40-year reliability asset. We'd rather do it right than leave there two months earlier."
In Waikato, Transpower faced fierce opposition to the pylon project which in 2005 resulted in effigies of Helen Clark and then Transpower chief executive Ralph Craven being burned outside the Tirau Town Hall. Strange says it's settled down since then and although it has the power, Transpower has not had to exercise compulsory acquisition. Buying land, and more recently easements has been costly.
About $200 million was spent buying about 100 farms and lifestyle properties, many at the peak of the dairy farm price boom last decade. It has been selling them over the past few years and is hoping to sell the remaining 40 properties by the end of the year, already booking a $50 million hit on its balance sheet.
"Most of the projects have run pretty well. The area we've faced the most surprises is on the Waikato overhead line - cost of land access because nobody had ever done it - never bought easements in the old days."
Transpower had also incurred more cost after being forced to survey some pylon sites by helicopter where it was barred from access until it had finalised easement deals.
Workers are now stringing the 18 high voltage lines and two earth wires between the pylons and, depending on the weather, should have the job done by late spring.
Power should be flowing through them by the end of the year.
When many of the projects were first envisaged, electricity demand growth was robust; it's now virtually stagnant.
"Things haven't turned out the way that was projected, load growth is much lower.
"Part of it is structural with the decline in manufacturing."
However, what wasn't predicted was almost all new generation coming from Taupo south. A unit of Huntly is likely to be mothballed, Contact's Otahuhu plant may be wound back and Genesis Energy shows no sign of pushing ahead with its Kaipara gas fired station.
"Taupo and further south have displaced these older thermal plants much more than the planners forecast. While load hasn't grown, putting a new line through the Waikato seems prudent right now," Strange says.
"We're seeing generation moving south right now and load moving north."
When the big projects are finished within the next year, and smaller upgrades around the edges are done Strange says New Zealand will have a "a good core grid" better able to cope if Murphy's Law hits again.
"We'll be through the worst of it when these things are commissioned. Certainly the link through Auckland makes us all sleep better at night."