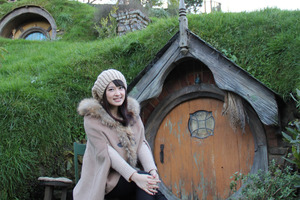 New services by China Airlines to Taipei via Sydney could boost tourism and trade by more than $50 million a year, says Auckland Airport, which has enlisted a Taiwanese celebrity to promote New Zealand.
The Taiwanese airline says it will fly the route four days a week in addition to its services to Taipei via Brisbane three times a week.
The new service starts on October 28 and will add more than 120,000 seats to the Auckland-Taiwan route and provide important global connections.
The airport's general manager aeronautical commercial, Glenn Wedlock, said this meant there were effectively daily services to Taiwan, which has a population of 23 million and is considered a mature, high-value market. About 18,000 Taiwanese visit a year and that could be easily boosted by another 3000 a year by 2020.
Auckland Airport has also launched a new high-profile traveller campaign to boost tourism from Taiwan.
The first Taiwanese celebrity guests, television news anchor HaiYin Chen and her renowned architect husband, Lienchuan Yu, toured the country for eight days in June, including a visit to the Queenstown Winter Festival.
"Bringing HaiYin and Lienchuan here and showing them, and their fans back in Taiwan, what New Zealand has to offer is part of our successful strategy to promote local tourism destinations and develop our nation's reputation as a must-visit travel destination," Wedlock said.
HaiYin has already drawn in more than 25.6 million visitors to her online blog posts.
She made regular updates for followers as she toured the country visiting tourist spots.
The new Auckland to Taipei service will use an A330-300 aircraft, with a total of 307 seats, including 30 business class.
Wedlock said China Airlines not only offered connections to Taipei and the airline's extensive global network but would help build the Auckland hub of the SkyTeam alliance, which includes China Southern Airlines.
"Equally as one of the world's largest cargo airlines the China Airlines services help us open greater access for our key trade markets."
New Zealand hopes to seal a free trade deal with Taiwan.
•Air New Zealand says it will boost capacity on direct services between Auckland and Queenstown by 32 per cent this summer, adding a fifth daily flight to give travellers a choice of direct services every two hours or so.
The increased capacity will take the total number of seats available on direct services over summer to 5200 each way a week.