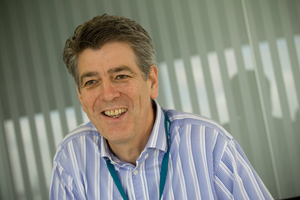 A golden handshake for former Telecom boss Paul Reynolds pushes the total remuneration he has received since 2007 to almost $24 million - and details of further payments are yet to be released.
The 55-year-old, who left the firm on Friday, gets a $1.75 million "termination payment", equivalent to one year's base salary.
Reynolds could not be contacted yesterday, but a Telecom spokesman last week said the towering Glaswegian was planning "a long holiday at the beach".
The company said the termination payment formed part of a deal ensuring its former chief executive would remain with the firm long enough to oversee the structural separation that spilt the business into two separately listed firms, Telecom and Chorus, last year.
Reynolds has earned $23.6 million during his almost five-year tenure at the company, according to historical data taken from the Business Herald's executive pay survey, including his $1.75 million base salary for the year to last month and termination payout.
But Telecom said yesterday that Reynolds was entitled to short-term and long-term incentive payments, the full details of which would be disclosed when the company publishes its annual report later this year.
Reynolds got a short-term incentive payment of just over $3 million in the 2012 financial year, earned in the previous year.
Shareholders Association corporate liaison Des Hunt said Reynolds' golden handshake was a consequence of the overly generous terms and conditions the company agreed on when it employed him in 2007.
"Over the last 10 years there's been a lot of slackness and irresponsibility at top level - board level - in negotiating these contracts," he said. "In the future I think boards need to be a bit more careful in how they negotiate these sort of contracts."
Hunt said he rated Reynolds' performance "no greater than average" and his base salary should have been closer to $1 million.
Simon Moutter, Reynolds' replacement as Telecom chief executive, will get a base salary of $1.35 million and short- and long-term performance incentives, Telecom said in April.
Announcing the termination payment yesterday, the company said it had outperformed the NZX 50 index on a total shareholder return basis by more than 25 per cent in the five years since late 2007, when Reynolds joined.
Chairman Mark Verbiest said Telecom had needed certainty about when Reynolds would leave and the deal that resulted in the termination payment allowed time to find a replacement and "ensure an orderly transition and stability in our interim leadership".
"Paul [Reynolds] would have been entitled to 12 months' total base remuneration if the company had given him notice post de-merger, but in that scenario he would have only been obliged to remain with the firm for three months," Verbiest said.
"The board at the time and Paul mutually agreed on a leaving date that included a payment of 12 months' total remuneration, effectively in lieu of notice."
Market commentator Arthur Lim said the termination payment was not an outrageous sum and such payouts were inevitable when companies had to attract top chief executives.
Reynolds had done a good job of repairing Telecom's relationship with the Government in his early years and steered the firm through the structural separation process.