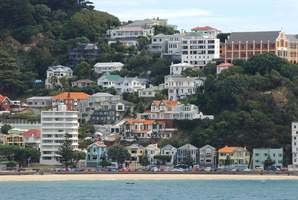 A jump in house price expectations in ASB Bank's latest quarterly survey challenges the Reserve Bank's relaxed view of the housing market.
The ASB survey over the three months to April found 57 per cent of respondents expect house prices to rise, while 12 per cent expect them to fall.
The net balance of 45 per cent expecting higher prices is a jump from a net 27 per cent in the previous quarter's survey.
Price expectations are not only high in Auckland and Christchurch, where fundamentals - lack of building and a dearth of listings, and the earthquakes respectively - would justify them.
The net balance expecting higher prices in Auckland jumped to a five-year high of 54 per cent, from 40 per cent in the previous survey.
In Christchurch, a net 69 per cent expect prices to rise, up from 56 per cent last time.
But the rest of the North Island and the South Island recorded even steeper increases, of 19 percentage points in both cases.
ASB chief economist Nick Tuffley said the strong level of house price expectations showed there was a risk of more sustained house price inflation.
"It is showing at least the potential for the housing market to get a little bit warmer outside of the places, Christchurch and Auckland, where you really are seeing supply shortages bite," Tuffley said.
The Reserve Bank was comfortable about the housing market as Governor Alan Bollard's comments last week indicated.
"So I don't expect there will be a dramatic amount of brow-furrowing going on," Tuffley said.
But the bank had to be mindful that the risks of people steering themselves back towards property, rightly or wrongly, are higher than they were.
"Returns on a number of assets have been pretty low for a while. Deposit rates are low and likely to remain low into next year some time. Equity markets still look like they are tied to global events, so there is that uncertainty," he said.
"So you have people looking around trying to figure out how they can make a better return, and now in some centres you have got [house] prices going up."
An environment of low mortgage rates and greater confidence that house prices will rise was one ripe for an increase in the more speculative activity that the Reserve Bank viewed dimly, Tuffley said.
It would count against any further cut in the official cash rate, especially when the exchange rate, whose elevated level had Bollard warning of the possibility of a cut, has fallen significantly in the past week.
The survey found little change in the net balance of respondents who consider it a good time to buy a house, at a net 21 per cent compared with 20 per cent in the previous survey.
A net 43 per cent expect interest rates to rise, unchanged from last time.
"Housing market activity has steadily picked up over late 2011 and early 2012. According to the latest REINZ figures, the number of dwelling sales in April was almost 14 per cent higher than a year ago, and the stratified median measure of house prices was 2.7 per cent higher nationwide," Tuffley said.
"Prices are up by more in Auckland, 4.5 per cent, and Christchurch, 7.6 per cent, reflecting the relatively tighter housing markets in these regions."
Mortgage rates are historically low, the lowest since mid-1965 in the case of floating rates, but will not stay that low indefinitely.
Tuffley said people needed to ask themselves if they would still be able to service the level of debt they are contemplating if interest rates were 2 or even 3 per cent higher.