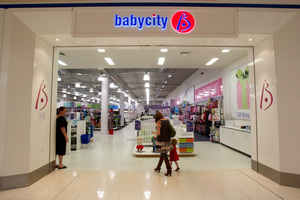 Clothing retailer Postie Plus Group may carry out a capital raising this year to help fund an expansion plan that includes acquisitions of well-known brands, its chief executive says.
The Christchurch-based, NZX-listed firm announced yesterday that it had reached an agreement to sell its 18-site chain of Babycity stores, which it has owned since before its 2003 sharemarket float.
Chief executive Ron Boskell said the sale of the babywear and equipment retailer would raise between $4.5 million and $5 million for Postie Plus, which it would use to fund acquisitions.
But Postie Plus would need further cash to fuel its expansion plans and might conduct a capital raising this calendar year to raise funds from shareholders, he said.
Boskell would not say how much cash the retailer might try to raise.
"It'll be a formal capital raising and when we're ready we'll do that," he said.
Boskell said Postie Plus was looking to acquire well-known, apparel retail brands.
"Our target market is middle New Zealand - so it's a wide-open space," he said. "We've got a few people we're talking to now and a few others have made contact with us and we'll continue to go down that track."
Boskell said Babycity's prospective purchaser was Baby City Retail Investments, a company operated by former L.V. Martin chief executive Trevor Douthett and owned by him and a number of associates.
The sale, which is conditional on gaining the approval of Postie Plus shareholders, is expected to be settled next month.
Boskell said Postie Plus would continue to supply apparel to Babycity under a wholesale agreement after the divestment.
Babycity had a very different business model from Postie Plus as it sold a lot of hardware, such as cots, which were low margin compared with apparel, he added.
"Our head isn't in that space and it isn't something we want to do - we have other plans for the future."
Last month the company reported a loss of $775,000 for the six months to January 29, compared with a $749,000 loss in the same period a year earlier.
Half-year sales of $53.92 million were 4.6 per cent lower than those in the previous comparable period.
Postie Plus chairman Richard Punter said the sale of Babycity was an important step in reconciling the company's business model.
The firm believed it should eventually grow to twice its size today through organic expansion and acquisitions, Punter said.
Shares in the company, which operates 81 Postie Plus stores around the country, closed up 8.7 per cent at 25c last night, giving the company a market capitalisation of $10 million.