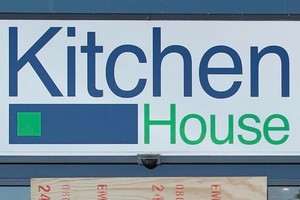 Receivers have been appointed to troubled retailer Kitchen House, its owner says.
The firm's six retail outlets around the North Island, three of which are in Auckland, had ceased trading yesterday and their staff had been sent home.
After mentioning that receivers KordaMentha had been appointed, owner Brian Smaill said "the powers of the directors have been suspended" and he was not allowed to discuss the company's affairs. KordaMentha did not return calls.
A customer who contacted the Business Herald said he had been called by a staff member from Kitchen House's Albany store on Tuesday night and told that all the firm's outlets had been shut down and its employees sent home.
"I had a kitchen on order to be delivered next week," said the customer, who did not want to be named. "They basically phoned up ... to say it ain't coming."
He said he had paid a 10 per cent deposit on a $10,000 kitchen.
Another customer said he had paid $1200 to Kitchen House's Wellington store towards a $5959 kitchen.
"I am still extremely annoyed and upset that I was paying for a product and service in good faith that it would be delivered," he said.
"There was no mention that the company was in difficulty, even when phoning them on Sunday to arrange final payment there was no indication anything was untoward."
Kitchen House has a history of financial troubles and went into receivership in February 2009.
At that time receivers BDO said the business had been affected by the downturn in property developments and softening of the residential housing market during the onset of the global financial crisis.
In April 2009 Kitchen House was acquired by Auckland-based furniture maker Criterion Group for an undisclosed sum.
Smaill family-owned Criterion, which was founded in 1964, went into receivership this year, reportedly owing $11 million to creditors.
Kitchen House employees were at that time assured that the firm would continue to trade as a separate entity, according to a media report.
The chairman of the Furniture & Cabinet Making Association, Blair McKolskey, said Kitchen House's latest troubles added to the sadness of Criterion's receivership.
"It's just a tragedy all around."
McKolskey said the kitchen-making sector had been relatively insulated from low-cost import competition, which was taking a heavy toll on furniture makers.