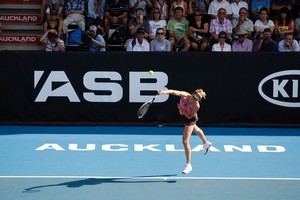 Banking and beer have been inseparable from New Zealand's big tennis tournaments for a decade and a half.
ASB has been the women's classic naming-rights sponsor for the past 16 years. And for the past 14 years, DB-owned Heineken has been the name behind the men's event.
Both companies and a branding expert say the usually uncrowded space for major events makes the sponsorships a winner.
ASB's executive general manager for culture and community, Linley Wood, said the sponsorship deal was renewable every three years.
"What made us get into it in the first place is a lot to do with why we've stayed in it," she said.
"It's a recognised international event, the first WTA event of the year.
"It's attracted quite a few world-class players because people can go on to the Australian Open.
"It's at a time of the year where people are relaxing and wanting to sit down in front of the TV or head off and watch the tennis."
She said the lack of other big events meant the tennis got maximum exposure. It also allowed the bank to entertain clients.
Through the years the classic has attracted high-profile players, including Anna Kournikova, Lindsay Davenport and Maria Sharapova. The coming tournament was to host Venus Williams until her withdrawal through illness last week.
Wood said ASB would sometimes top up the appearance fee budget for top-line stars.
"It depends on the person they [Tennis Auckland] attract. If it's worth it for the New Zealand public, we will."
Williams' withdrawal had created a few headaches.
"That's a bit of a challenge from a marketing perspective because we've got a lot of marketing material built around her. "We feel for her and she wouldn't have made that decision lightly."
The bank has two strategies - a sponsorship programme for sports such as tennis and football, and a community programme where it supports organisations such as St John and Starship.
Though she would not divulge what is spent on tennis, the bank's total sponsorship and community budget was $12 million a year, Wood said.
Heineken is brewed in New Zealand by DB, which says the men's open is a great way for corporates to host customers and forge better working relationships.
DB Breweries managing director Brian Blake said his company tracked all brand activity around the tournament with a goal to enhancing key brand measures such as "worth paying more for" and "international premium".
The event has also hosted some big names, including a Swiss player by the name of Roger Federer in 2000 and a Spanish player by the name of Rafael Nadal in 2004.
For Federer, it turned out to be his only appearance in Auckland, lasting just 68 minutes before he was bundled out in the first round by another future world No 1, Juan Carlos Ferrero. Nadal reached the Heineken Open final, but was beaten by Dominik Hrbaty.
Blake said the buildup to the tournament began six months out with brand and PR teams meeting fortnightly with Tennis Auckland.
Besides corporate hosting, Heineken has set up bars and an after-party on finals day. The link between sport and alcohol has been under the microscope this year with high-profile incidents involving All Blacks.
Blake said the brand association between tennis and Heineken was positive.
"We've never had a social responsibility issue at any tournament."
Brian Richards of brand strategists Brian R Richards said the golden rule was that up to three times the original sponsorship needed to be spent on promotion and marketing around the event.
"They will need to spend that to get real value."
The beer sponsorship was obvious - appeal to drinkers at the height of summer - but the bank sponsorship was more subtle.
"It's part of the corporate story - they're wanting to talk to the upper middle class who may be interested in tennis."
Heineken was also one of the sponsors of the Rugby World Cup, which Blake said was a big success with 46 per cent more of the beer sold compared with the same time last year.
Hot tickets:
* The ASB Women's classic runs from Monday, to January 7.
* The Heineken Open runs from January 9 to January 14.