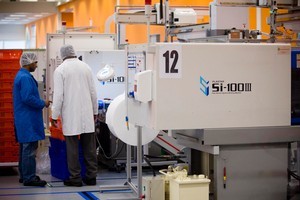 Fisher & Paykel Healthcare is lowering the proportion of sales it makes in United States dollars by up to 2 percentage points a year through the establishment of new markets, chief executive Mike Daniell says.
The East Tamaki-based medical device manufacturer has been increasing sales in the local currencies of countries such as Turkey, Canada, Hong Kong and Japan, which lessens its exposure to volatility in the kiwi-greenback exchange rate.
The New Zealand dollar, which hit a post-float record of US87.43c against the greenback in August, has made business challenging for many local exporters.
Fisher & Paykel Healthcare's interim result, released yesterday, showed operating revenue in US dollars grew 18 per cent to US$205.7 million in the six months to September 30, compared with the same period last year.
Converted into New Zealand dollars, however, operating revenue grew just 3 per cent to $252 million, which despite the exchange rate pressure was a record.
First-half net profit declined 1 per cent to $28.3 million, compared with $28.6 million in the first half of its last financial year, when deferred tax charges of $11.7 million are excluded.
F&P Healthcare said it had derived approximately 53 per cent of its operating revenue in US dollars.
Daniell said the proportion had been 80 per cent about 15 years ago.
"It makes sense to be selling in US dollars to [just] the United States."
However, he said many of the distributors in smaller countries still wanted to use the greenback.
F&P Healthcare now sold its products in 120 nations, either directly or through distributors, Daniell said.
The company is ramping up production in its lower-cost Mexican manufacturing facility, which opened last year. More than 20 per cent of the firm's consumable products, such as face masks and tubes, are now made in the plant in the border city of Tijuana.
For the second half of its current financial year, F&P Healthcare had 89 per cent foreign exchange hedging cover for the greenback at about US70c.
The company said it had 86 per cent cover for the euro at around €48c.
The New Zealand dollar has averaged US79.44c against the greenback and €56.72c against the euro this year, and was trading at US74.41c and €55.26c at 3pm yesterday.
Morningstar analyst Andrew Lange said F&P Healthcare was showing strong underlying growth and had a stable outlook.
"For a fairly defensive investor it's looking like a solid company to get into," Lange said.
The company forecast full-year net profit to be in the range of $62 million to $67 million, up from $52.5 million last year.
F&P Healthcare shares, which have lost more than 20 per cent of their value this year, closed down 3c at $2.39 last night.