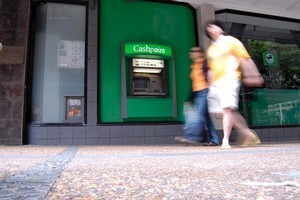 Business confidence continues to slide with the National Bank's monthly survey recording the third successive decline in firms' view of the economic outlook and their own prospects.
On the "headline" question - will general business conditions improve or get worse - 33 per cent of respondents expect improvement and 20 per cent deterioration.
The net 13 per cent positive is down from a net 30 per cent last month and July's peak of a net 48 per cent.
The survey was sent out on the same day Fitch and Standard & Poor's announced they had downgraded New Zealand's sovereign credit rating.
"From that point on there has been little to cheer about on the international front," said the bank's chief economist, Cameron Bagrie.
A net 26 per cent of firms expect their own activity to rise in the coming year, continuing the decline from the recent peak of a net 44 per cent in July.
But it was still bang on the historical average for that indictor and was a respectable level for what firms think about what actually mattered, namely their own business, Bagrie said.
Profit expectations tumbled to just a net 2 per cent expecting improvement, from a net 15 per cent last month.
Despite that decline, investment and employment intentions - both critical to sustained economic expansions - held their ground reasonably well, Bagrie said.
"Why both have remained more resilient than perceptions of profitability is something of a puzzle."
A net 19 per cent of firms expect to be raising their prices, down from a net 20 per cent last month.
Inflation expectations one year ahead also nudged lower to 3.1 per cent.
This was still high, Bagrie said, but the Reserve Bank would be encouraged that expectations had moderated from a peak of 3.5 per cent at a time when actual inflation remained high.
"There is enough in this month's business confidence survey, on the downside, for us to be taking notice." The economy still had a reasonable amount of momentum and the surprise had been how resilient business sentiment had been, given developments in the wider world.